Big Gun
Big Gun

Eco System Slip-On Exhaust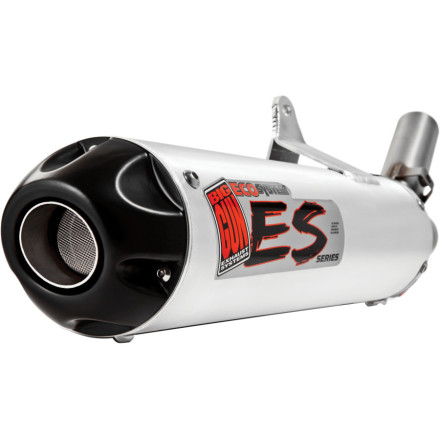 Big Gun Eco System Slip-On Exhaust
5 Star
22
4 Star
5
3 Star
1
2 Star
1
1 Star
1
Write a Review
Write your review and you'll automatically be entered in our monthly drawing. Include an image or video to DOUBLE your chances to win!
Write Your Review
2 months 2 days ago
Pennsylvania, USA
Excellent
Put this on my son's Yamaha Raptor 250.Really throaty and definitely notice the power gain.
4 months 21 days ago
Tremonton Utah
This thing is AWESOME !!!
The power it adds to my Z400 is amazing but what I really like is the sound that it makes !!! just makes you feel like you can get after it !!!
You know the old saying you can't get down if you don't hear the sound!!!!
Seriously this is an awesome product I am very very pleased with it!! it's added lot to my Suzuki Z400!! it was an awesome wheeler before now it's a totally awesome digger !!! I love what this has added to my machine Power and Sound and I've got So many compliments on it it's pretty cool !!!
Wayze to install takes less than 5 minutes highly recommend the BIG GUN !!!!
Over 7 months ago
Mississippi, USA
Big Gun ES on 420 Rancher
I bought these big gun for my 420, and saw very little power increase even with the optimizer. Before the optimizer my bike WAS Lean with just the exhaust and I am around 150 about sea level if that helps you any with the air pressures and whatnot. It was ehhh to put on the first time, but I did remove it and put it back on with ease
Over 10 months ago
Morrisdale pa 16858
It's loudbut doesn'tshake atvbutyoucanhearitintown
This atv exhaust is loud but I don't think man that it shake your quad because it's not shaking my atv it's loud enough that you can hear it in town on the other side in town other than that it's sounds like a raptor without a baffle in
Over 11 months ago
Mansfield, GA, USA
Sounds great and performers great
Me and my dad put ours on my honda rancher 420 es and it went on like a dream the only hard part was taking the stock off. My fourwheeler only use to do barley 50 now can do about 61mph
Over 12 months ago
Cecilia, KY 42724, USA
Works great!sounds great!
Sounds great.looks great.motosport service was excellent.had trouble getting it to seal to header pipe.clamp broke trying to get it to seal.big gun sent me new clamps but still wouldn't seal.had to buy heavy duty clamp for a motorcycle slip on pipes and finally it sealed.but all around happy with it and also happy with service from moto sport and big gun.
1 year 3 months ago
Andover, IL, USA
Cool but theres one issue..
(2009 Honda trx250x) got this during the summer and it sounded great but then the gasket between the slip on and header kept popping out. one time it came out in the middle of WV trails at hatfield mccoy, I had no choice but to keep going. the gasket eventually blew out the spark arrestor. So after all of that, I decided to make another notch at the end of slip on so that the clamp can squeeze down harder for a tighter seal. Last night finally I put some jb weld around the gasket (3rd gasket i have bought for this one issue) to prevent it from coming out. Tonight i'm going to put on the slip on and clamp it and hope it works. if not i'm gonna need a better clamp or something. Just wish I didn't have to do all of this un-legit stuff to get it to work but oh well
Big gun on 420 rancher
I ordered this big gun and got some power changes, not huge but they were good. The hardest part was to remove the stock exhaust other than that no complaints and would recommend anyone to give the eco a try.
Great sound and added power
I loved the sound it's like completely new bike. Don't drive it in the neighborhood if you don't want to get complains about the noise :)

Very easy to install in 5 min.
1 year 7 months ago
Holdenville, OK 74848, USA
Awesome muffler
Sounds awesome my son loved it on her 700 Raptor!!! Great price and shipping was fast!!
Great sound
I was a little uneasy getting this over the evo because there weren't many videos out that let you hear the sound of the exhaust but it sounds awesome I'd definitely recommend buying it.
1 year 11 months ago
Utsh
Loud
So loud put it on with silencer insert took rite back off rediculousy loud shakes machine and body and ear drums
1 year 12 months ago
Wasilla, AK 99654, USA
A LITTLE DISASEMBALY REQUIRED TO INSTALL. CLAMP AT OE PIPE HAS TO BE WATCHED AND ADJUSTED REGULARLY
Get it
got it today sounds and looks great! also added lots of power to my grizz.
2 years 2 months ago
Vermont, USA
Didn't fit my Ltr
i bought this exhaust fir my 2006 suzuki ltr and when i went to put it on it didn't fit its about a half in to big in diameter... and i now cant send it back because it got damaged when installing it..
Frustrating
First off this pipe was terrible too install, the header and the pipe never matched up right so I ended up having to do some welding, also the spark arrestor doesn't come assembled from the factory, meaning you have to put the cap and spark arrestor on yourself. Well that's all fine and dandy, but my pipes 3 holes for the end app were both tapped wrong. So I had to RE- tap the holes. After a year of having this pipe (when I am writing this review) the weld on the pipe that connects the pipe to the mounting bracket started to crack and eventually cracked completely. It's a excellent pipe for a temporary install, but please save your money and buy a full system, it will be best in the long run.
2 years 2 months ago
Albuquerque, NM, USA
Sounds great!!
Bought this Big Gun ECO Exhaust for a 2015 RMZ450 .
Bolts right up with no problems
Was instructed by BIG GUNS Tech support to add a Bead of high temp silicone to ensure a tight air free seal at the mid-pipe to Header joint .
IT is noticeably louder then stock and Sounds great!!
Over 3 years ago
Eugene, OR, USA
Cool pipe
I bought this for my wife's '12 ltz 400 so I coul
d actually hear bike when were at the dunes.
The new pipe really opened up her 400 over
The stock pipe. I didn't need to reprogram
The ecu as suzuki said the slip on was with
In tolerance. So good sound, performance,
Fit and price.
Over 3 years ago
East Hampton, CT, USA
From stock 2004 ltz400 to power house in 5 minuts
at first I bought it to make it sound better wasn't really looking for more power but I got it and it sounds great and made a noticeable power difference and no need to rejet from factory jetting
Over 4 years ago
Arkansas, USA
Great pipe
Looks and sounds great on my 08 trx450er.easy installation and a great price
Zack
Q: Do you need to purchase a gasket to seal off any leaks connecting from the header to the muffler?
David
2 months 23 days ago
A: You can typically reuse your stock seal but if it's damaged. I would suggest replacing it.
Zack
Q: Does it come with a exhaust gasket?
David
2 months 23 days ago
A: It does not.
FarmerLane
Q: Does this work for both sides for 2006 honda 250 to keep it dual piped?
David
3 months 1 day ago
A: The 2006 Honda TRX250 only comes with 1 exhaust stock.
Tito7
Q: Will this fit a 2014 Yamaha 350 (it's not 4x4) just wanted to know thanks.?
KrazyMarsh98
1 year ago
Location: Illinois, USA
A: If you can select your exact atv model on the page it should tell you if it fits or not. I tried for you but I don't know your model of atv. If you are unsure then don't buy it
jose7
Q: Will it fit a 2014 Yamaha Grizzly 350 its not 4x4 just wanted to know thanks.?
Anthony
Q: Will this fit my 2003 Honda TRX250EX sportax Also will I need to do anything to my carburetor?
KrazyMarsh98
1 year ago
Location: Illinois, USA
A: I put one on my 2009 trx 250x and didn't do anything with the carb and it seems to run just fine. Although I did turn up my idle but it depends on how yours runs afterwards. If it will fit? Just select your model of atv on the page and it will tell you if they can make it fit or not
Fetus
Q: Will this exhaust be good for my atv? It's a cammed and jetted 400ex I don't want it to be retsrictive. What are other good options for me?
beginner15
Location: Quincy, IL, USA
Q: Does the jet kit come with the exhaust?
marsh1998
1 year 3 months ago
Location: Andover, IL, USA
A: Nope, its just a slip on do you don't really need one, if you get the full system then buy a jetting kit
Rolo
Q: Will it fit 2010 polaris sportsman 500 ho?
Gabriel
Q: I have a 2006 CRF250R, and have dual exhaust. Is there a way I could get one exhaust for the left and one for the right?
MotoSportExpert
1 year 6 months ago
A: No sorry, Big Gun does not offer a dual for your 2006 Honda CRF250R.
See all bikes that this part fits...
| Product Variant | Manufacturer Part # |
| --- | --- |
| Big Gun Eco System Slip-On Exhaust | 07-1112 |
| Big Gun Eco System Slip-On Exhaust | 07-1172 |
| Big Gun Eco System Slip-On Exhaust | 07-1122 |
| Big Gun Eco System Slip-On Exhaust | 07-1132 |
| Big Gun Eco System Slip-On Exhaust | 07-1142 |
| Big Gun Eco System Slip-On Exhaust | 07-1152 |
| Big Gun Eco System Slip-On Exhaust | 07-1182 |
| Big Gun Eco System Slip-On Exhaust | 07-1192 |
| Big Gun Eco System Slip-On Exhaust | 07-1202 |
| Big Gun Eco System Slip-On Exhaust | 07-1212 |
| Big Gun Eco System Slip-On Exhaust | 07-1222 |
| Big Gun Eco System Slip-On Exhaust | 07-1232 |
| Big Gun Eco System Slip-On Exhaust | 07-1252 |
| Big Gun Eco System Slip-On Exhaust | 07-1262 |
| Big Gun Eco System Slip-On Exhaust | 07-1272 |
| Big Gun Eco System Slip-On Exhaust | 07-1302 |
| Big Gun Eco System Slip-On Exhaust | 07-1312 |
| Big Gun Eco System Slip-On Exhaust | 07-1322 |
| Big Gun Eco System Slip-On Exhaust | 07-1342 |
| Big Gun Eco System Slip-On Exhaust | 07-1412 |
| Big Gun Eco System Slip-On Exhaust | 07-2612 |
| Big Gun Eco System Slip-On Exhaust | 07-7582 |
| Big Gun Eco System Slip-On Exhaust | 07-7702 |
| Big Gun Eco System Slip-On Exhaust | 07-2223 |
| Big Gun Eco System Slip-On Exhaust | 07-2232 |
| Big Gun Eco System Slip-On Exhaust | 07-6902 |
| Big Gun Eco System Slip-On Exhaust | 07-1422 |
| Big Gun Eco System Slip-On Exhaust | 07-1292 |
| Big Gun Eco System Slip-On Exhaust | 07-1432 |
| Big Gun Eco System Slip-On Exhaust | 07-1002 |
| Big Gun Eco System Slip-On Exhaust | 07-1022 |
| Big Gun Eco System Slip-On Exhaust | 07-1042 |
| Big Gun Eco System Slip-On Exhaust | 07-1052 |
| Big Gun Eco System Slip-On Exhaust | 07-1062 |
| Big Gun Eco System Slip-On Exhaust | 07-1072 |
| Big Gun Eco System Slip-On Exhaust | 07-1082 |
| Big Gun Eco System Slip-On Exhaust | 07-1102 |
| Big Gun Eco System Slip-On Exhaust | 07-1362 |
| Big Gun Eco System Slip-On Exhaust | 07-1442 |
| Big Gun Eco System Slip-On Exhaust | 07-1402 |
| Big Gun Eco System Slip-On Exhaust | 07-1502 |
| Big Gun Eco System Slip-On Exhaust | 07-4352 |
| Big Gun Eco System Slip-On Exhaust | 07-1242 |