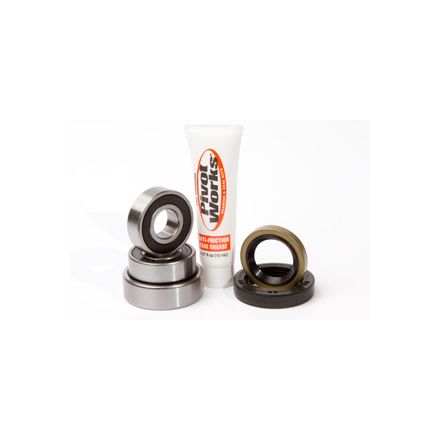 Pivot Works Linkage/Shock Bearing Kit
---
10% Off - Save up to $9.99
---
5 Star
26
4 Star
5
3 Star
3
2 Star
1
1 Star
2
Write a Review
Write your review and you'll automatically be entered in our monthly drawing. Include an image or video to DOUBLE your chances to win!
Write Your Review
Perfect fit
We replace them every season as part of the new year build.
Barings
Linkage baring does not fit right, paying more money to replace it.....just take ur bike to the shop let them press the OEM barings....u just don't know if they fit...let me be the guy that learned that lesson for you..not worth it..I put a pic up and u can see it sticks out on the sides...now I have to buy and pay for new baring and for Honda to. Press it for me....
3 months 22 days ago
Santa Rosa, CA, USA
Swingarm and linkage bearing
Great bearings, fairly easy installation, nice that it comes with everything you need includicing grease, I did have a problem with the seals and contacted pivot works and they sent new seals out free of charge. A great company and great customer service
1 year 1 month ago
Portland, OR, USA
The brand speaks for itself
So here is the thing about Pivot Works bearings. THEY COME WITH A LIFETIME GUARANTEE!!!! what else needs to be said? The only thing to look for is that you need to make sure that you mic your old bearings because the lower shock bearing on an 01' cr 250 has the same o.d. as the linkage but i.d. is smaller so don't be like me and press in a fresh bearing just to turn around and press it back out and waste it. other than that, just stick them in the freezer over night get a torch and a bench vise some sockets and in about 30-45 min. you will have the SMOOTHEST action money can buy.
1 year 2 months ago
Floyd, VA
Best money spent
easy installation, overall good product
1 year 3 months ago
Atlanta
KDX 220 linkage bearings
Good kit. Comes with everything needed to replace all linkage bearings bushings and seals. Fast shipping
1 year 7 months ago
Bremerton
Night and day difference
E z instal with a vice and large socket
1 year 8 months ago
Emilio
Pivot Works Linkage bearing Kit
High quality, easy to install.
Great product
Quality bearings and seal. Note that is does NOT come with upper shock bearing. Also does not come with the 6 outer washers that the seals ride on.
2 years 1 month ago
Tarentum, PA, USA
Perfect Replacement
This linkage kit was a perfectly fitting replacement for my 06 KX. It was simple to press the bearings in and then slide the bushings right in. I was VERY surprised that they came with PivotWorks lifetime replacement program, in which PivotWorks will provide the owner of a kit with a new kit, once the useful life of the original kit has expired as a result of normal wear and tear (subject to conditions).
Q: Hello dose the kit include the top shock bearing
Honda cr 125 1992
robert
3 months 23 days ago
A: This will just include the lower shock bearing kit.
Q: I have a 2004 rm250 does this include the collors and outer washes that sit on top of the seal?
David
Over 6 months ago
A: Yes it will.
Q: Hi, Please can you confirm whether this kit includes the Swingarm bearings or is it the linkage and lower shock only?
MotoSportRyanT
Over 4 years ago
A: This kit would only include the Linkage and Lower Shock Bearings/Bushings. It would not include the Swingarm Bearings.

You can find the Linkage/Shock/Swingarm Kit here: http://www.motosport.com/dirtbike/Pivot-Works-Swing-Arm-Shock-Linkage-Bearing-Combo
MOTOXplore
Over 4 years ago
A: This is only the linkage and lower shock bearing.
Laporno
Over 4 years ago
A: Lower linkage only swing arm bearings r a difrent kit
Q: Will this kit do both the shock bearing (upper/lower) and all the linkage or will the all balls kit
I am looking for a all in one complete kit.
MotoSportRyanT
Over 4 years ago
A: There is actually not a bearing in the top of the shock on your 2001 Kawasaki KX65, there is a bushing. This kit contains the lower shock bearing and every OE quality bearing, seal, pin and collar you need to rebuild your shock linkage. If your upper bushing is worn out I would recommend ordering the OEM replacement via out OEM parts finder.

(OEM Link: http://www.motosport.com/dirtbike/oem-parts/KAWASAKI/2001/KX65/SHOCK-ABSORBER%28S%29?sku=92092-1078 )
Q: Pivot Works Linkage/Shock Bearing Kit
Does this kit include a bladder? A bumper?
MotoSportExpert
Over 5 years ago
A: This is only for the linkage and shock bearings. It does not include the shock bumper or bladder. You would need to purchase the Pivot Works repair kit if you need a bladder and bumper. It contains a new bladder, new complete seal-head, piston ring, piston O-ring, bumper, and new shaft nut.
MotoDadandMechanic
Over 5 years ago
A: NO
Q: Does this kit include the top shock bearing?
MotoSportExpert
Over 5 years ago
A: No, this does not include the upper shock bearing. It includes all of the bearings for the linkage and the lower shock bearing. The upper bearing will need to be purchased separately.
Ks191
Over 5 years ago
A: Nope
See all bikes that this part fits...
| Product Variant | Manufacturer Part # |
| --- | --- |
| Pivot Works Linkage/Shock Bearing Kit | N/A |
| Pivot Works Linkage/Shock Bearing Kit | N/A |
| Pivot Works Linkage/Shock Bearing Kit | N/A |
| Pivot Works Linkage/Shock Bearing Kit | N/A |
| Pivot Works Linkage/Shock Bearing Kit | N/A |
| Pivot Works Linkage/Shock Bearing Kit | N/A |
| Pivot Works Linkage/Shock Bearing Kit | N/A |
| Pivot Works Linkage/Shock Bearing Kit | N/A |
| Pivot Works Linkage/Shock Bearing Kit | N/A |
| Pivot Works Linkage/Shock Bearing Kit | N/A |
| Pivot Works Linkage/Shock Bearing Kit | N/A |
| Pivot Works Linkage/Shock Bearing Kit | N/A |
| Pivot Works Linkage/Shock Bearing Kit | N/A |
| Pivot Works Linkage/Shock Bearing Kit | N/A |
| Pivot Works Linkage/Shock Bearing Kit | N/A |
| Pivot Works Linkage/Shock Bearing Kit | N/A |
| Pivot Works Linkage/Shock Bearing Kit | PWLK-H59-000 |
| Pivot Works Linkage/Shock Bearing Kit | N/A |
| Pivot Works Linkage/Shock Bearing Kit | N/A |
| Pivot Works Linkage/Shock Bearing Kit | N/A |
| Pivot Works Linkage/Shock Bearing Kit | N/A |
| Pivot Works Linkage/Shock Bearing Kit | N/A |
| Pivot Works Linkage/Shock Bearing Kit | N/A |
| Pivot Works Linkage/Shock Bearing Kit | N/A |
| Pivot Works Linkage/Shock Bearing Kit | N/A |
| Pivot Works Linkage/Shock Bearing Kit | PWLK-H71-000 |
| Pivot Works Linkage/Shock Bearing Kit | N/A |
| Pivot Works Linkage/Shock Bearing Kit | N/A |
| Pivot Works Linkage/Shock Bearing Kit | N/A |
| Pivot Works Linkage/Shock Bearing Kit | N/A |
| Pivot Works Linkage/Shock Bearing Kit | N/A |
| Pivot Works Linkage/Shock Bearing Kit | N/A |
| Pivot Works Linkage/Shock Bearing Kit | N/A |
| Pivot Works Linkage/Shock Bearing Kit | N/A |
| Pivot Works Linkage/Shock Bearing Kit | N/A |
| Pivot Works Linkage/Shock Bearing Kit | N/A |
| Pivot Works Linkage/Shock Bearing Kit | N/A |
| Pivot Works Linkage/Shock Bearing Kit | N/A |
| Pivot Works Linkage/Shock Bearing Kit | N/A |
| Pivot Works Linkage/Shock Bearing Kit | N/A |
| Pivot Works Linkage/Shock Bearing Kit | N/A |
| Pivot Works Linkage/Shock Bearing Kit | N/A |
| Pivot Works Linkage/Shock Bearing Kit | N/A |
| Pivot Works Linkage/Shock Bearing Kit | N/A |
| Pivot Works Linkage/Shock Bearing Kit | PWLK-S29-0 |
| Pivot Works Linkage/Shock Bearing Kit | PWLK-S30-0 |
| Pivot Works Linkage/Shock Bearing Kit | N/A |
| Pivot Works Linkage/Shock Bearing Kit | N/A |
| Pivot Works Linkage/Shock Bearing Kit | N/A |
| Pivot Works Linkage/Shock Bearing Kit | N/A |
| Pivot Works Linkage/Shock Bearing Kit | N/A |
| Pivot Works Linkage/Shock Bearing Kit | N/A |
| Pivot Works Linkage/Shock Bearing Kit | N/A |
| Pivot Works Linkage/Shock Bearing Kit | N/A |
| Pivot Works Linkage/Shock Bearing Kit | N/A |
| Pivot Works Linkage/Shock Bearing Kit | N/A |
| Pivot Works Linkage/Shock Bearing Kit | N/A |
| Pivot Works Linkage/Shock Bearing Kit | N/A |
| Pivot Works Linkage/Shock Bearing Kit | N/A |
| Pivot Works Linkage/Shock Bearing Kit | N/A |
| Pivot Works Linkage/Shock Bearing Kit | N/A |
| Pivot Works Linkage/Shock Bearing Kit | N/A |
| Pivot Works Linkage/Shock Bearing Kit | N/A |
| Pivot Works Linkage/Shock Bearing Kit | N/A |
| Pivot Works Linkage/Shock Bearing Kit | N/A |
| Pivot Works Linkage/Shock Bearing Kit | N/A |
| Pivot Works Linkage/Shock Bearing Kit | N/A |
| Pivot Works Linkage/Shock Bearing Kit | N/A |
| Pivot Works Linkage/Shock Bearing Kit | N/A |
| Pivot Works Linkage/Shock Bearing Kit | N/A |
| Pivot Works Linkage/Shock Bearing Kit | N/A |
| Pivot Works Linkage/Shock Bearing Kit | N/A |
| Pivot Works Linkage/Shock Bearing Kit | N/A |
| Pivot Works Linkage/Shock Bearing Kit | N/A |
| Pivot Works Linkage/Shock Bearing Kit | N/A |
| Pivot Works Linkage/Shock Bearing Kit | N/A |
| Pivot Works Linkage/Shock Bearing Kit | N/A |
| Pivot Works Linkage/Shock Bearing Kit | N/A |
| Pivot Works Linkage/Shock Bearing Kit | N/A |
| Pivot Works Linkage/Shock Bearing Kit | N/A |
| Pivot Works Linkage/Shock Bearing Kit | N/A |
| Pivot Works Linkage/Shock Bearing Kit | N/A |
| Pivot Works Linkage/Shock Bearing Kit | PWLK-Y39-0 |
| Pivot Works Linkage/Shock Bearing Kit | PWLK-H52-000 |
| Pivot Works Linkage/Shock Bearing Kit | PWLK-H73-000 |
| Pivot Works Linkage/Shock Bearing Kit | PWLK-H74-000 |
| Pivot Works Linkage/Shock Bearing Kit | PWLK-HQ06-000 |
| Pivot Works Linkage/Shock Bearing Kit | PWLK-HQ07-000 |
| Pivot Works Linkage/Shock Bearing Kit | PWLK-HQ08-000 |
| Pivot Works Linkage/Shock Bearing Kit | PWLK-HQ09-000 |
| Pivot Works Linkage/Shock Bearing Kit | PWLK-K22-000 |
| Pivot Works Linkage/Shock Bearing Kit | PWLK-K33-000 |
| Pivot Works Linkage/Shock Bearing Kit | PWLK-S50-000 |
| Pivot Works Linkage/Shock Bearing Kit | PWLK-Y40-000 |
| Pivot Works Linkage/Shock Bearing Kit | PWLK-Y41-000 |