FMF
FMF Powercore 4 Slip-On Exhaust - 4-Stroke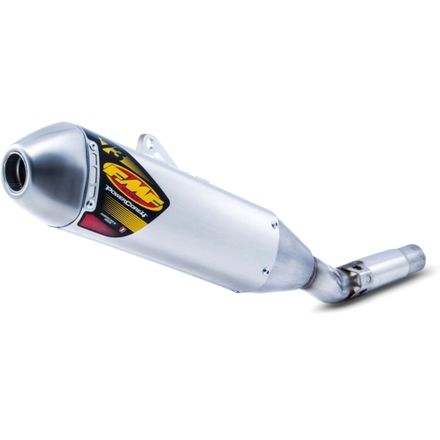 FMF Powercore 4 Slip-On Exhaust - 4-Stroke
---
10% Off - Save up to $35.00
---
5 Star
102
4 Star
14
3 Star
0
2 Star
0
1 Star
1
Write a Review
Write your review and you'll automatically be entered in our monthly drawing. Include an image or video to DOUBLE your chances to win!
Write Your Review
1 month 7 days ago
Fort Worth Texas.
FMF 4 stroke exhaust
It finally went on sale! Worth wait!
1 month 8 days ago
Snohomish,WA
Loud but so worth it
Ive been using it for three weeks, instantly noticed the torque increase
1 month 12 days ago
Sterling,oh
16 drz 400sm
Awsome pipe, looks really good. Made awesome power for bottom and mid range. For top end u atleast have a little bit more or stock. Great sound only disappointed in that u can't use ur heat shield with this pipe.
1 month 14 days ago
DFW TX
Excellent product for XR250R
Very nice pipe that saves weight and increases low and mid-range power, when the bike is uncorked and jetted. The fit was perfect with no issues. Also sounds great!
1 month 19 days ago
Oregon
Power core 4 for xt 250
Easy installed, great performance. Half the weight of stock.
Worth the money!
A small power increase and awesome sound.
1 month 26 days ago
Blue Springs Missouri
Did NOT fit my 2018 XR 650L
Manufacturer did not spline the pipe to manifold deep enough so it wouldn't fit the factory bike bolt pattern !
1 month 26 days ago
Texas
Powercore 4 is great
I put this on a 2017 Yamaha TT-R230. Great fit. Great sound. The only complaint is switching between spark arrestor and quiet insert. Very difficult to remove either one, but it is worth it. Great product.
2 months 1 day ago
Lakewood,co
Slip on exhaust
I had no issues installing this unit, maybe 15 minutes.
It gave my 12 yr old a good bit more power and noise I need for the trails. .2017 klx140L
Fast delivery easy install
2 months 21 days ago
Deltona Florida
Best Performance decision!
I put this on my 2018 DRZ 125 and it literally probably goes 10mph faster! Very easy to put on your self, took me about 15 mins in total to remove my old stock pipe and to put on my new FMF pipe. I ABSOLUTELY LOVE THIS PIPE!!!
Q: Will this work on my stock header for a 2006 raptor 350?
TylerGearhead
5 days 19 hours ago
A: Yes, a slip on is almost always designed to work with your stock header.
Q: What is the difference between the fmf power core 4 slip on and the fmf factory 4.1 slip on
JamesGearhead
6 days 8 hours ago
A: The Powercore 4 is a great option for the every-day rider, looking to add power to their bike at an affordable cost. The Factory 4.1 was focused on MX performance. It is lighter a bit lighter and the color scheme is different also.
Q: Will this fit my 2003 honda 150F with stock header
Thumbs
6 days 14 hours ago
A: Yes this will fit your stock header on your 03 Honda 150f no problem.
Q: Will this  exhaust fit on a 2008 Honda trx400ex
Isaac
11 days ago
A: Yes the exhaust is offered for your model.
Q: Would this work on a Polaris Sportsman 570?
Tyler Gearhead
21 days ago
A: I will need the full Year, Make and Model of the vehicle your looking to install this on to answer that. If you Profile your vehicle on the website it will indicate if it is an exact fit or no fit.
Q: How long is the exhaust slip on in inches?
Paul
26 days ago
A: The FMF Powercore 4 Slip-On Exhausts are all model-specific, so the dimensions vary depending on which exact motorcycle you have. In most cases, the dimensions of the FMF Powercore 4 Slip-On are very close to the same as the original muffler from the bike manufacturer. All FMF Powercore 4 Slip-On mufflers will mount to the original installation points.
Q: Will this fit a 2018 XR650L?? ?????
Isaac
1 month 1 day ago
A: Yes we do offer that exhaust for your model.
Q: When will this item be back in stock?
kawi119
3 months 12 days ago
A: Available - Requires 6-9 Business Days to Ship from Our Warehouse
Q: Would this fit a Yamaha 450 yfz 2006?
robert
3 months 18 days ago
A: Yes it will fit the vehicle.
Q: Will this slip onto a fmf power bomb header
See all bikes that this part fits...
| Product Variant | Manufacturer Part # |
| --- | --- |
| FMF Powercore 4 Slip-On Exhaust - 4-Stroke | N/A |
| FMF Powercore 4 Slip-On Exhaust - 4-Stroke | 044377 |
| FMF Powercore 4 Slip-On Exhaust - 4-Stroke | 041269 |
| FMF Powercore 4 Slip-On Exhaust - 4-Stroke | 041025 |
| FMF Powercore 4 Slip-On Exhaust - 4-Stroke | 045233 |
| FMF Powercore 4 Slip-On Exhaust - 4-Stroke | 041048 |
| FMF Powercore 4 Slip-On Exhaust - 4-Stroke | 041284 |
| FMF Powercore 4 Slip-On Exhaust - 4-Stroke | 041273 |
| FMF Powercore 4 Slip-On Exhaust - 4-Stroke | 041274 |
| FMF Powercore 4 Slip-On Exhaust - 4-Stroke | 041377 |
| FMF Powercore 4 Slip-On Exhaust - 4-Stroke | 041004 |
| FMF Powercore 4 Slip-On Exhaust - 4-Stroke | 041036 |
| FMF Powercore 4 Slip-On Exhaust - 4-Stroke | 041276 |
| FMF Powercore 4 Slip-On Exhaust - 4-Stroke | 041346 |
| FMF Powercore 4 Slip-On Exhaust - 4-Stroke | 043006 |
| FMF Powercore 4 Slip-On Exhaust - 4-Stroke | 043012 |
| FMF Powercore 4 Slip-On Exhaust - 4-Stroke | 043010 |
| FMF Powercore 4 Slip-On Exhaust - 4-Stroke | 042148 |
| FMF Powercore 4 Slip-On Exhaust - 4-Stroke | 042161 |
| FMF Powercore 4 Slip-On Exhaust - 4-Stroke | 042246 |
| FMF Powercore 4 Slip-On Exhaust - 4-Stroke | 042000 |
| FMF Powercore 4 Slip-On Exhaust - 4-Stroke | 043011 |
| FMF Powercore 4 Slip-On Exhaust - 4-Stroke | 045135 |
| FMF Powercore 4 Slip-On Exhaust - 4-Stroke | 045134 |
| FMF Powercore 4 Slip-On Exhaust - 4-Stroke | 045011 |
| FMF Powercore 4 Slip-On Exhaust - 4-Stroke | 045226 |
| FMF Powercore 4 Slip-On Exhaust - 4-Stroke | 042122 |
| FMF Powercore 4 Slip-On Exhaust - 4-Stroke | 042123 |
| FMF Powercore 4 Slip-On Exhaust - 4-Stroke | 043210 |
| FMF Powercore 4 Slip-On Exhaust - 4-Stroke | 045033 |
| FMF Powercore 4 Slip-On Exhaust - 4-Stroke | 044263 |
| FMF Powercore 4 Slip-On Exhaust - 4-Stroke | 044101 |
| FMF Powercore 4 Slip-On Exhaust - 4-Stroke | 044016 |
| FMF Powercore 4 Slip-On Exhaust - 4-Stroke | 044022 |
| FMF Powercore 4 Slip-On Exhaust - 4-Stroke | 044295 |
| FMF Powercore 4 Slip-On Exhaust - 4-Stroke | 043140 |
| FMF Powercore 4 Slip-On Exhaust - 4-Stroke | 043136 |
| FMF Powercore 4 Slip-On Exhaust - 4-Stroke | 043220 |
| FMF Powercore 4 Slip-On Exhaust - 4-Stroke | 045133 |
| FMF Powercore 4 Slip-On Exhaust - 4-Stroke | 041327 |
| FMF Powercore 4 Slip-On Exhaust - 4-Stroke | 044015 |
| FMF Powercore 4 Slip-On Exhaust - 4-Stroke | 044215 |
| FMF Powercore 4 Slip-On Exhaust - 4-Stroke | 041020 |
| FMF Powercore 4 Slip-On Exhaust - 4-Stroke | 041021 |
| FMF Powercore 4 Slip-On Exhaust - 4-Stroke | 041022 |
| FMF Powercore 4 Slip-On Exhaust - 4-Stroke | 041023 |
| FMF Powercore 4 Slip-On Exhaust - 4-Stroke | 041425 |
| FMF Powercore 4 Slip-On Exhaust - 4-Stroke | 044313 |
| FMF Powercore 4 Slip-On Exhaust - 4-Stroke | 044300 |
| FMF Powercore 4 Slip-On Exhaust - 4-Stroke | 044224 |
| FMF Powercore 4 Slip-On Exhaust - 4-Stroke | 044013 |
| FMF Powercore 4 Slip-On Exhaust - 4-Stroke | 044228 |
| FMF Powercore 4 Slip-On Exhaust - 4-Stroke | 044014 |
| FMF Powercore 4 Slip-On Exhaust - 4-Stroke | 044220 |
| FMF Powercore 4 Slip-On Exhaust - 4-Stroke | 044222 |
| FMF Powercore 4 Slip-On Exhaust - 4-Stroke | 040005 |
| FMF Powercore 4 Slip-On Exhaust - 4-Stroke | 041032 |
| FMF Powercore 4 Slip-On Exhaust - 4-Stroke | 041244 |
| FMF Powercore 4 Slip-On Exhaust - 4-Stroke | 043024 |
| FMF Powercore 4 Slip-On Exhaust - 4-Stroke | 044021 |
| FMF Powercore 4 Slip-On Exhaust - 4-Stroke | 045010 |
| FMF Powercore 4 Slip-On Exhaust - 4-Stroke | 044141 |
| FMF Powercore 4 Slip-On Exhaust - 4-Stroke | 044312 |
| FMF Powercore 4 Slip-On Exhaust - 4-Stroke | 041364 |
| FMF Powercore 4 Slip-On Exhaust - 4-Stroke | 042318 |
| FMF Powercore 4 Slip-On Exhaust - 4-Stroke | 042319 |
| FMF Powercore 4 Slip-On Exhaust - 4-Stroke | 043284 |
| FMF Powercore 4 Slip-On Exhaust - 4-Stroke | 044110 |
| FMF Powercore 4 Slip-On Exhaust - 4-Stroke | 045266 |
| FMF Powercore 4 Slip-On Exhaust - 4-Stroke | 045430 |