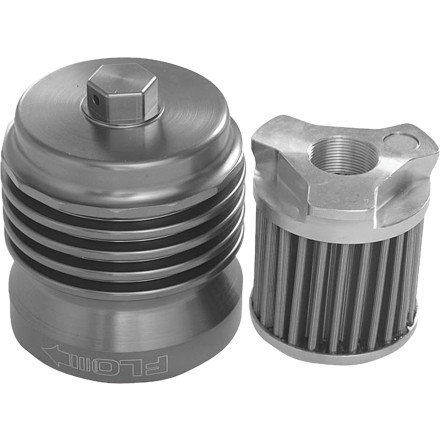 5 Star
17
4 Star
0
3 Star
1
2 Star
0
1 Star
0
Write a Review
Write your review and you'll automatically be entered in our monthly drawing. Include an image or video to DOUBLE your chances to win!
Write Your Review
Looks sharp
This item looks very sharp once installed on the bike. Perfect fit and simple to install.
Over 11 months ago
Chicago, IL, USA
Great if you have OEM exhaust
So, I was installing this on my 03 CBR that has a full exhaust. As I was fitting the header back onto the bike, it was hitting the oil filter. Long story short, I had to grind the nut off the filter to get the clearance, and it is still really tight. I wish they made a compact filter for race bike applications that have aftermarket exhausts.
Yo Sidecar here
Yo Sidecar here to tell you that the first thing I do to all my bikes when I get them is to change the oil and replace the oil filter with one of these baby's! Not only do they look cool but they work better than the other type, plus they are reusable, environment friendly, save money after ten changes. Get one and see.
Flo oil filter.. Pays for itself
Oil filter is amazing. Well worth the price!!
1 year 7 months ago
Arizona
Best looking
Worth the price you pay for being able to reuse and just the quality of product
2 years 8 months ago
Valencia, California
Solid filter
I was a little worried about the quality before
I ordered but that was unwarranted. The filter
Arrived and it is solid and a piece of art. It fit
My 2012 vstrom perfectly.
Over 3 years ago
Apex North Carolina
P C Flo filter
Do the math people, this is the only way to fly if you are in to any kind of regular maintenance. Looks great, works great. The hundred dollars is well worth it for the last filter you will buy!
Worth every penny!
Just changed my oil for the first time since I put this thing on. I was impressed when I received it and am even more so now. It does everything they say, cleans up nice and easy and with my regular oil filters costing over 10 bucks each it will pay for itself fairly quickly.
Over 4 years ago
Savannah, GA, USA
Pc racing flo oil filter
the pc racing flo oil filter is an awesome looking oil filter the outter housing is show quality and the removeable stainless micronic cloth is very easy to clean great product last filter you will ever buy
Over 5 years ago
Rogers, Arkansas
Say good bye to other filters
Outstanding value, great looks and eliminates the need for replacement paper oil filters... forever!!

Not only is this a great looking filter setup it's incredibly functional with a lifetime reusable metal filter element with integrated magnet.

Comes with extra seal ring a couple of stickers.
Over 5 years ago
Minnesota
Love it!
I read a ton of reviews on-line before investing in this filter... everything I read was positive, and with my goal to be changing my oil more often, saving the $15+ cost of a filter every would definitely be less crunch out of my wallet! Plus, the magnet helps filter out metal, plus you can SEE potential issues with your gears BEFORE a breakdown, plus it's a solid piece of art that looks AWESOME on a bike (you can never have too much chrome!). While you won't need an oil filter wrench once you install this baby, I needed to buy one for a 1 time use (ugh). Installation was a snap, the bolt/nut affixed to the front is way easier than the oil filter wrench! So I'm on my first oil change with it, I'll report back later if anything changed, but if it works half as a good as it looks, I'm a happy camper (and these sell for over $108 on other web sites!)
Over 5 years ago
Davenport, IA
Great Fit
Fit perfectly on my wires fz6r and has performed well so far, can't comment on the long term use, but it sure beats paying 13 bucks for a new decent KN filter each time I feel like getting my hands dirty.
Over 5 years ago
placentia, ca
Bitchin'
This thing is RAD. Buy this and you won't need any more filters. It's easy to clean, and most importantly it looks cool.
Filter is great and looks amazing. Great investment for your bike.
Over 6 years ago
Las Cruces, NM
FLO Oil Filter
Ordered the oil filter received it, installed it. Ran my bike for the next couple of months, changed the oil - the cover's built in nut made it super easy to remove the filter - big plus because I did not have to remove my fiberglass (ninja zrx9 f1) to get to it, saves time. Plus the look of the cover in my opinion looks cool against the led lights I have on my bike. As for cleaning of the element well that was pretty simple too,... it also allows me to inspect what it is filtering (it was clean :D ) .... considering I will have this bike for sometime to come, it was worth my investment. ..
Over 6 years ago
naples,fl
Love it
it works great and makes changing the oil easier too. the only trouble is i cannot find a replacement gasket on your website.
Over 6 years ago
Fairfield, IA
06R6ravencustom
Great product. If your looking to save money down the line and upgrade your filtration system this is the way to go. Only draw back is if you have the 06 R6 you have to trim the nut of the billet cover but doesnt hurt performance or looks of the filter. still easiest filter to put on and take off that ive found
Over 8 years ago
San Francisco,Ca.
Top Quality Part
This Oil Filter is a Work of Art!
Nice Finish and comes with a Spare Gasket.
Should last the Life of the Bike and then some!
Motosport Has been Fantastic to work with.
I Would Recommend this Part and Motosport I have Not been Dissapointed.
jimk
Q: I thought a good oil filter would remove 20 to 30 microns?? The Flo oil filter says it removes 35 correct me if i am wrong, Thank you, Jim Kalogeras?
David
Top 10 Contributor
Top 25 Contributor
3 months 15 days ago
A: This is correct. It's rated at 35 microns.
smithr355
Q: Do you sell replacement seals for this?
Thumbs
3 months 21 days ago
Location: Portland, OR, USA
A: If it's a seal for the part itself no we do not, if PC Racing sells them we can order them in but it doesn't look like we sell any replacement parts for these filters.
NickSoapDish
Q: Does it come with installation instructions?
I'm new to the whole mechanic thing but eager to learn. I hear that an oil filter change is pretty simple and can save you a lot of money, if you do it yourself. Still if there is a way to screw it up, I'll be the one to do that! Would love clear detailed instructions with step by step diagrams.... Just like my legos had as a kid :P
CustomerAccountManager
Top 500 Contributor
Top 1000 Contributor
Over 5 months ago
Location: Portland
A: These are pretty straight forward filters to install, But unless you have a high compression high horsepower application I would just stick with an o.e.m. oil filter. These might be reusable,but are not 100% necessary unless you are running a full tuned race motor.


Feel free to give me a call

Jason Robbins
Customer Account Manager
Motosport.com
503-783-5613
whistler
Location: Brisbane QLD, Australia
Q: Can you get one to fit gsf 1250a suzuki bandit 2012?
k9
Fonz
Q: Length?
What is the length of this filter? I have clearance issues with the M1-110 so i started using the M1-MC134 which fits perfect
MotoSportExpert
Over 4 years ago
Location: Portland, OR, USA
A: These are designed to be model specific fitment. Unfortunately i do not have the specifications available for each filter. If you enter the bike model that the filter is for, you will receive the correct filter for that application.
sidecar
1 year 4 months ago
Location: nj
A: Each one that I bought is about 3 1/2 inches in length.
lehtdog
Q: Whats the best degreasing agent, that would be good to use on the filter?
would any of the degreasing agents be harmful to the motor or bike
Drewski
Over 8 years ago
Location: P+RTLAND
A: Any solvent will work whether it's kerosene, contact/brake cleaner, degreaser agent or even dish soap and water. Just dont use gas.
ninja6
Over 4 years ago
Location: Savannah, GA, USA
A: use any spray carb cleaner or mineral sprits these should not harm the engine but you should blow out any exess or let it evaporate it self dry
Sidecar
1 year 4 months ago
Location: NJ
A: I prefer to use brake cleaner because it cleans well and evaporates quickly. It is also one of the recommended solvents to use.
Sidecar
1 year 4 months ago
Location: NJ
A: You can wash it out with dawn dish soap and just rinse it good and let it dry or blow it out.
wise
Q: So all i do is wash it every oil change and put it back in my bike and is there any warrenty?
patrick77
Over 8 years ago
Location: Portland, OR
A: Clean with any degreasing agent, dry, lightly blow air through the filter from the inside out to remove any remaining particles or cleaning agent and reuse.
No warranty.
Sidecar
1 year 4 months ago
Location: NJ
A: Yes that's correct! Clean it with one of recommended solvents, I prefer brake cleaner and let it dry a bit or blow it out a put it back in you'll have your money back in no time!
See all bikes that this part fits...
| Product Variant | Manufacturer Part # |
| --- | --- |
| PC Racing Flo Oil Filter | PCS1 |
| PC Racing Flo Oil Filter | PCS2 |
| PC Racing Flo Oil Filter | PCS5 |