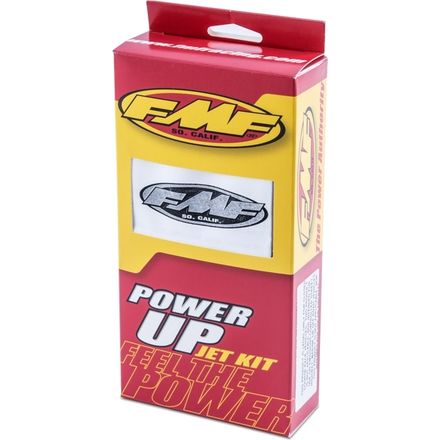 ---
10% Off - Save up to $8.00
---
5 Star
29
4 Star
18
3 Star
1
2 Star
5
1 Star
8
Write a Review
Write your review and you'll automatically be entered in our monthly drawing. Include an image or video to DOUBLE your chances to win!
Write Your Review
Question
I install FMF Q4 exaust on my honda trx450r , did is jet kit fit ? :)
Love it
Great power but stage one is stupid didn't run good if you got a aftermarket pipe just do stage 2
Low cost way to increase HP!
Installed kit along with header and exhaust. Huge difference on my 2017 XR650L.
Wake up your Dirt bike
My 06 KTM 525 was sleepy in the performance area. With all the mods people were saying to do to the carb I was very hesitant to do anything. After much thought (too much) I popped for the FMF kit. After opening the box the first thing I noticed was the funny looking main jets. The kit I had did not have Keihin jets. It did have an adapter that you have to install first, then use the supplied FMF (dynojet jets.) Word to the wise, a 155 DJ jet is not the same size as a 155 Keihin main jet. There is a conversion chart if you want to compare them. I kept my Keihin main jet in since I had already jetted the bike before buying the FMF kit. Its the FMF needle that powers up the big KTM. It went from the friendly, sleepy power to snappy, power now. I used to struggle to get a 2nd gear wheelie, now it climbs for the sky in 3rd. You wont go wrong with this kit. If you only do 1 mod, this would be the biggest improvement. My bike has a slip on (end cap on) to derestrict the exhaust and the FMF kit.
Jetting
What main jet from this kit do I use for my 04 DVX 400
1 year 8 months ago
Portland, OR, USA
Worked for me
This kit had just what I needed to re jet after my exhaust upgrade. would recommend this for sure
1 year 10 months ago
Springfield
Get a Jd kit if you can
Not ideal for most applications unless it's your only option.
Proprietary jets that have to have an adapter, vague directions,
Fit and finish questionable and lacks certain jets that you would expect for a multi stage kit ( specifically pilot jets of any sort).
If it's your only option it WILL work but not like a jd kit at all.
1 year 10 months ago
Michigan
Awesome!!
Installed the stage 2 jet kit when I rebuilt my motor along with a uni filter and a vented airbox. MAN did it make a difference! Would recommend to anyone that's looking for an inexpensive way to add performance to their bike. Just remember when you add more fuel, you need more air!
2 years 2 months ago
Kennewick, WA 99337, USA
Dynorific
Made a huge difference all the lean backfires are gone and notable power gain.
Q: What size main jets are in this kit?
robert
1 month 26 days ago
A: We do not carry this for a 2005 trx 50r. Fmf will send a range of jets based off your model.
Q: Does this product come with the Stage 2 Jet kit as well and the Stage 1 kit??
robert
2 months 6 days ago
A: Correct it will have stage 1&2 in the kit.
Q: I just installed a fmf fatty powercore 2 exaust will this be the right jetting kit to buy?
rknight
Over 7 months ago
A: Yes this jet kit would be perfectly fine for that exhaust system
Q: Since my Banshee has 2 carbs do i need to purchase 2 jet kits?
MotoSportExpert
1 year 11 months ago
A: The FMF Power Up Jet Kit 011721 for your Banshee would include jets for both carbs. One kit needed
Q: Can you please send instructions for my 1999 klx300?
Have bought this FMF Power Up Jet Kit from you some time ago but I have lost the instructions before fitting can you help me?
MotoSportExpert
2 years 1 month ago
A: For instructions please contact FMF directly at (310) 631-4363
sales@fmfracing.com.
http://www.fmfracing.com/Info/Contact
Q: Is there a jet kit for my honda 85 atc 250r avaliable
MotoSportExpert
2 years 8 months ago
A: If the part is available through one of our suppliers, we would be happy to order it for you. Please contact one of our sales professionals to inquire about special orders and availability.
Dirt Bike / ATV: 1-888-676-8853
Q: I recently installed a Pro Circuit T-4 S/A Silencer and i was just wondering if i would need to install a jet kit
If a jet kit is needed, would yours suit my needs ?
MotoSportExpert
2 years 9 months ago
A: Normally when installing a slip-on only minor jetting changes are needed, if any at all. If your bike is currently jetted properly you will likely not have to make any changes after installing this slip-on. Jetting can be very tricky, there isn't one setting that will work everywhere with every bike. I would recommend installing the exhaust and riding the bike to see how it is running then tuning your carburetor from there if necessary.
Q: Can i use these jets with a different brand exhaust
Motowrench27
Over 3 years ago
A: Yes
I have used them on several different m/c and ATV s with different brands of exhaust manufacturers with fantastic results.
MotoSportExpert
Over 3 years ago
A: Yes the FMF Power Up Jet Kit would work great with different brand exhaust as well.
Q: Will this fit my 2004 crf250r
MotoSportExpert
Over 3 years ago
A: Yes, Just be sure to correctly select the Year/Make/Model of your bike before ordering so we can be sure to send you the correct jet kit for your bike. Also, feel free to give us a call at 888-676-8853 and we would be happy to help you out with your order.
Q: Installing an fmf power bomb full exhaust with a uni air filter on a 2014 Honda 450r.. what size jet to use?
MotoSportGrantK
Over 3 years ago
A: There is not a specific setting I could give you for jetting your bike. It would really depend on your location (altitude/temperature) and how your bike is running with the current jetting. Jetting can be very tricky, there isn't one setting that will work everywhere with every bike. I would recommend taking your bike to a local motorcycle dealership's service department to have your bike properly jetted.
Motowrench27
Over 3 years ago
A: Follow the stage 2 instructions.
See all bikes that this part fits...
| Product Variant | Manufacturer Part # |
| --- | --- |
| FMF Power Up Jet Kit | 011703 |
| FMF Power Up Jet Kit | 011721 |
| FMF Power Up Jet Kit | 011718 |
| FMF Power Up Jet Kit | 012605 |
| FMF Power Up Jet Kit | 012613 |
| FMF Power Up Jet Kit | 012647 |
| FMF Power Up Jet Kit | 012612 |
| FMF Power Up Jet Kit | 011756 |
| FMF Power Up Jet Kit | 011757 |
| FMF Power Up Jet Kit | 012604 |
| FMF Power Up Jet Kit | 012615 |
| FMF Power Up Jet Kit | 012611 |
| FMF Power Up Jet Kit | 011716 |
| FMF Power Up Jet Kit | 011723 |
| FMF Power Up Jet Kit | 012633 |
| FMF Power Up Jet Kit | 011708 |
| FMF Power Up Jet Kit | 012632 |
| FMF Power Up Jet Kit | 011741 |
| FMF Power Up Jet Kit | 012616 |
| FMF Power Up Jet Kit | 012650 |
| FMF Power Up Jet Kit | 012617 |
| FMF Power Up Jet Kit | 011754 |
| FMF Power Up Jet Kit | 011759 |
| FMF Power Up Jet Kit | 012631 |
| FMF Power Up Jet Kit | 011755 |
| FMF Power Up Jet Kit | 012644 |
| FMF Power Up Jet Kit | 011724 |
| FMF Power Up Jet Kit | 012618 |
| FMF Power Up Jet Kit | 012600 |
| FMF Power Up Jet Kit | 011702 |
| FMF Power Up Jet Kit | 012603 |
| FMF Power Up Jet Kit | 011753 |
| FMF Power Up Jet Kit | 012601 |
| FMF Power Up Jet Kit | 011793 |
| FMF Power Up Jet Kit | 011794 |
| FMF Power Up Jet Kit | 011704 |
| FMF Power Up Jet Kit | 011743 |
| FMF Power Up Jet Kit | 012602 |
| FMF Power Up Jet Kit | 011740 |
| FMF Power Up Jet Kit | 011745 |
| FMF Power Up Jet Kit | 011791 |
| FMF Power Up Jet Kit | 012606 |
| FMF Power Up Jet Kit | 012620 |
| FMF Power Up Jet Kit | 012641 |
| FMF Power Up Jet Kit | 011725 |
| FMF Power Up Jet Kit | 012607 |
| FMF Power Up Jet Kit | 012621 |
| FMF Power Up Jet Kit | 012614 |
| FMF Power Up Jet Kit | 012653 |
| FMF Power Up Jet Kit | 012654 |
| FMF Power Up Jet Kit | N/A |
| FMF Power Up Jet Kit | N/A |