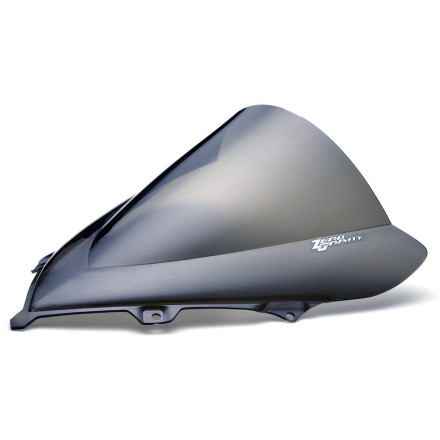 Zero Gravity Double Bubble Windscreen
---
10% Off - Save up to $12.49
---
5 Star
22
4 Star
4
3 Star
1
2 Star
2
1 Star
1
Write a Review
Write your review and you'll automatically be entered in our monthly drawing. Include an image or video to DOUBLE your chances to win!
Write Your Review
19 days ago
Tucson, AZ, USA
Excellent Product
Screen fits perfect and looks great
19 days ago
New Braunfels, TX
Double the bubble dbl da fun
I love the look but more importantly the way it keeps the wind off me. I use to get a back draft and it would cause me to loose my hat or Bonnie off my head. I know, I should be wearing a helmet all the time but no. I don't. 100% happy with the look and feel it gives me riding my Busa
Awesome windscreen
Loved it and it was so easy to install shipping and delivery is efficient
1 year 4 months ago
Michigan, USA
Nice windscreen.
Double Bubble dark smoke to replace the scratched clear oem on my black '07 SV1000s. Looks great, slightly more coverage, easy to install.
Good windscreen
The color looks great and the visibility is very clear. I dropped the bike about 5 mph and it got a small crack but other than that its nice.
Destroyed
Great optics, great fitment, but it shattered on a low-speed track day impact of 40 mph. It didn't even hit the ground - I think my foot hit it when I fell off the bike. I would recommend a non-shattering windscreen (ABS plastic of similar), even if the optics are worse. They're cheaper, too.
Cracked while washing..
Had this product on my Ninja 650r for 4 months and only got 2-3 rides out of it. Broke at the car wash while cleaning the bike.. Was very happy with how it looked and fit.. Just not quality.
2 years 4 months ago
Queen Creek, AZ, USA
Way bette than stock!
Many complain that this doesn't do its job. After riding with this windshield for 6000 miles, I can say that it does reduce the force of the air on the rider, but it can never fully eliminate that effect. Riding position will also affect how well this windshield works too. If you have a sport bike that has you leaning forward, it'll do fine. If you ride an FZ1 like myself, it helps keep the wind from blowing you around a bit.
2 years 9 months ago
Boston, MA, USA
Zero gravity double bubble windscreen
Amazing windscreen that fit my 03 ninja 636 perfect.. I can see threw it just fine and I ordered the dark smoke... Comes with the little zero gravity decals in the top left and right corner...
Over 3 years ago
Madison, WI, USA
Poor fit
I purchased this for my 2012 R1 and was not happy with the fit on my bike or the looks of the windscreen. It was very loose and once fully installed it was very sloppy. I returned the windscreen and bought the GYTR raised bubble windscreen, it was well worth the extra money
It fits nice and looks awesome I like that it let's me sit higher on the bike at faster speeds thanks
Over 3 years ago
Huntington Beach, CA
Great Windscreen
Fits perfectly on my CBR600F4i and looks sleek too! Deflects the wind quite well! I actually feel like I'm in a bubble when I tuck in behind this bad boy. Great purchase and superior quality!
Over 4 years ago
Atlanta,GA
Excellent Windscreen
I bought this to replace a Memphis shades screen that was damaged at Barber. The screen feels solid and both stock and replacement hardware fits perfectly. I was able to experience it at Road Atlanta for the first time and the performance was as expected from an outfit like Zero Gravity. Buffeting is greatly reduced and visibility behind it is great.
I highly recommend getting one of these.
Over 5 years ago
Big Flats, NY, USA
Cheap plastic
While installing just barely pushing windscreen bushing on and bottom corner of windscreen broke right off,would not trust this plastic with any kind of strike,wasted $99 on this,reinstalled original windscreen
Great Windscreen
Great product. You need to use the rubber mounting nuts from your stock windscreen or contact Zero Gravity for the additional hardware.
Over 5 years ago
Buffalo, NY
Love em
Had one on my gen 2 zx10...n love this one as much on my gen 3. Can still c out of it during day and its a lil taller than stock and the dark smoke looks black but is still easy to c thru in daylight.
Over 5 years ago
Tualatin, OR
ZG Double Bubble Windscreen
The fitment on with this windscreen is excellent. The screen has excellent shielding from the wind and is aesthetically pleasing to my eye. ***Side note***I received the screen with a broken mounting tab due to shipping. Motosport listened to my concerns, let me keep the broken screen, and reshipped me a new screen free of charge. Now that's customer service at its best!!!
Over 5 years ago
Waterford, CT
Great windscreen
looks aswome on the bike 10 times better A+
Fairly Satisfied
I got this because of the 'Bubble' shape, for more wind protection than the stupid aftermarket shield that came on my bike. I was hoping for a little more height on the bubble, but I am satisfied with the added wind protection. And I can actually read the top of the tach. It fit just fine and looks much better. And Motosport got it here in 2 days, as is usually the case when its in stock.
Over 5 years ago
Tooele, Ut
I put this on my yamaha fz6r to try to get out of the wind a little more and it did just that. I even noticed a little better gas milage when I fill up. It was very simple to put on, it took no longer than 2 min.
TimO
Location: Union City, CA, USA
Q: Aprilia RSV4 ZG Windscreen?
Do you have any pictures of your windscreen installed on an RSV4? I'm looking for something to provide more protection from the wind. The dimensions imply it is a bit bigger, do you have any reviews from people saying that? Thanks so much for the help.
MotoSportExpert
2 years 5 months ago
A: Unfortunately we do not have photos of the shield mounted on a 2015 Aprilia RSV4. Dimensions for the shield can be found in the description area. The image is a generic image supplied by the manufacturer for reference only. It may not be displaying the exact part for your bike. Just be sure to correctly select the Year/Make/Model of your bike before ordering so we can be sure to send you the correct shield for your bike. Also, feel free to give us a call at 888-676-8853 and we would be happy to help you out with your order.
SFNegro
1 year 4 months ago
A: Looks great and it's so easy to install
Alan
Q: I have a 2015 Suzuki GSX1250SE I want the double bubble dark smoke windscreen.can you confirm that 16-180-19 is correct?
MotoSportExpert
2 years 11 months ago
A: The Zero Gravity part number for the Double Bubble Windscreen dark smoke would be 16-180-19 and fit U.S. models GSX 1250FA 2011 / GSX 650F 08-10

http://www.zerogravity-racing.com/index.php
chevyman
Location: Newark, DE, USA
Q: I have a zero gravity windscreen?
part # fz1 06-13 tr#555189 mfg # 16 dblbbl can you tell me what bike this is for
Jwest
Top 500 Contributor
Top 1000 Contributor
Over 4 years ago
Location: Big Flats, NY, USA
A: Part number tells you..fz 1 06-2013
MotoSportExpert
Over 4 years ago
Location: Portland, OR, USA
A: This is for a 2006-2013 Yamaha FZ1.
See all bikes that this part fits...
| Product Variant | Manufacturer Part # |
| --- | --- |
| Clear | N/A |
| Dark Smoke | N/A |
| Smoke | N/A |
| Light Smoke | 16-156-02 |
| Light Smoke | 16-171-02 |
| Light Smoke | 16-172-02 |
| Light Smoke | 16-203-02 |
| Light Smoke | 16-204-02 |
| Light Smoke | 16-223-02 |
| Light Smoke | 16-244-02 |
| Light Smoke | 16-263-02 |
| Light Smoke | 16-281-02 |
| Light Smoke | 16-320-02 |
| Light Smoke | 16-402-02 |
| Light Smoke | 16-403-02 |
| Light Smoke / Standard | 16-417-02 |
| Light Smoke | 16-106-02 |
| Light Smoke | 16-107-02 |
| Light Smoke | 16-108-02 |
| Light Smoke | 16-110-02 |
| Light Smoke | 16-111-02 |
| Light Smoke | 16-441-02 |
| Light Smoke | 16-453-02 |
| Light Smoke | 16-506-02 |
| Light Smoke / Standard | 16-507-02 |
| Light Smoke / Standard | 16-133-02 |
| Light Smoke | 16-157-02 |
| Light Smoke | 16-245-02 |
| Light Smoke | 16-246M-02 |
| Light Smoke | 16-261-02 |
| Light Smoke | 16-271-02 |
| Light Smoke | 16-274-02 |
| Light Smoke | 16-404-02 |
| Light Smoke | 16-405-02 |
| Light Smoke | 16-406-02 |
| Light Smoke | 16-407-02 |
| Light Smoke / Standard | 16-537-02 |
| Light Smoke | 16-576-02 |
| Light Smoke | 16-729-02 |
| Light Smoke | 16-810-02 |
| Light Smoke | 16-909-02 |
| Light Smoke | 16-109M-02 |
| Light Smoke | 16-423-02 |
| Light Smoke | 16-425-02 |
| Light Smoke | 16-454-02 |
| Light Smoke | 16-464-02 |
| Light Smoke | 16-538-02 |
| Light Smoke | 16-539-02 |
| Light Smoke | 16-540-19 |
| Light Smoke | 16-577-02 |
| Light Smoke | 16-578-02 |
| Light Smoke | 16-579-02 |
| Light Smoke | 16-463-02 |
| Light Smoke | 16-972-02 |
| Light Smoke | 16-805-42 |
| Light Smoke | 16-855-02 |
| Light Smoke | 16-726R-02 |
| Light Smoke | 16-727-02 |
| Light Smoke | 16-728R-02 |
| Light Smoke | 16-704-02 |
| Light Smoke | 16-462-02 |
| Light Smoke | 16-455-02 |
| Light Smoke | 16-231-02 |
| Light Smoke | 16-252-02 |
| Light Smoke | 16-253-02 |
| Light Smoke | 16-325-02 |
| Light Smoke | 16-761-02 |
| Light Smoke | 16-175-02 |
| Light Smoke | 16-132-02 |
| Light Smoke | 16-103-02 |
| Light Smoke | 16-104-02 |
| Light Smoke | 16-167-02 |
| Light Smoke | 16-166-02 |
| Light Smoke | 16-911-42 |
| Light Smoke | 16-523-02 |
| Light Smoke | 16-520-02 |
| Light Smoke | 16-424-02 |
| Light Smoke | 16-262-02 |
| Light Smoke | 16-112-02 |
| Light Smoke | 16-113-02 |
| Light Smoke / Standard | 16-134-02 |
| Light Smoke | 16-580-02 |
| Light Smoke | 16-541-02 |
| Light Smoke | 16-912-02 |
| Light Smoke | 16-105-02 |
| Light Smoke | 16-114-02 |
| Light Smoke | 16-155-02 |
| Light Smoke | 16-180-02 |
| Light Smoke / Without Black Vinyl Mask | 16-206-02 |
| Light Smoke | 16-207-02 |
| Light Smoke | 16-220-02 |
| Light Smoke | 16-221-02 |
| Light Smoke | 16-241-02 |
| Light Smoke | 16-270-02 |
| Light Smoke | 16-282-02 |
| Light Smoke | 16-408-02 |
| Light Smoke | 16-426-02 |
| Light Smoke | 16-443-02 |
| Light Smoke | 16-452-02 |
| Light Smoke | 16-460-02 |
| Light Smoke | 16-532-02 |
| Light Smoke | 16-702-02 |
| Light Smoke | 16-730-02 |
| Light Smoke | 16-738-02 |
| Light Smoke | 16-763-02 |
| Light Smoke | 16-901-02 |
| Light Smoke | 16-910-02 |
| Light Smoke / Without Black Vinyl Mask | 16-914-02 |
| Light Smoke | 16-811-02 |
| Light Smoke | 16-444-02 |
| Light Smoke | 16-553-02 |
| Light Smoke | 16-542-02 |
| Light Smoke | 16-739-02 |
| Light Smoke | 16-764-02 |
| Clear | 16-172-01 |
| Clear | 16-203-01 |
| Clear | 16-263-01 |
| Clear | 16-281-01 |
| Clear / Standard | 16-417-01 |
| Clear | 16-106-01 |
| Clear | 16-107-01 |
| Clear | 16-108-01 |
| Clear | 16-110-01 |
| Clear | 16-111-01 |
| Clear | 16-506-01 |
| Clear / Standard | 16-507-01 |
| Clear / Standard | 16-133-01 |
| Clear | 16-157-01 |
| Clear | 16-245-01 |
| Clear | 16-246M-01 |
| Clear | 16-274-01 |
| Clear | 16-404-01 |
| Clear | 16-405-01 |
| Clear | 16-407-01 |
| Clear | 16-729-01 |
| Clear | 16-810-01 |
| Clear | 16-909-01 |
| Clear | 16-109M-01 |
| Clear | 16-423-01 |
| Clear | 16-464-01 |
| Clear | 16-538-01 |
| Clear | 16-539-01 |
| Clear | 16-540-01 |
| Clear | 16-577-01 |
| Clear | 16-578-01 |
| Clear | 16-579-01 |
| Clear | 16-463-01 |
| Clear | 16-972-01 |
| Clear | 16-805-41 |
| Clear | 16-726R-01 |
| Clear | 16-727-01 |
| Clear | 16-728R-01 |
| Clear | 16-455-01 |
| Clear | 16-761-01 |
| Clear | 16-424-01 |
| Clear | 16-262-01 |
| Clear | 16-112-01 |
| Clear | 16-113-01 |
| Clear / Standard | 16-134-01 |
| Clear | 16-580-01 |
| Clear | 16-541-01 |
| Clear | 16-912-01 |
| Clear | 16-114-01 |
| Clear | 16-104-01 |
| Clear | 16-155-01 |
| Clear | 16-166-01 |
| Clear | 16-170-01 |
| Clear | 16-171-01 |
| Clear / Without Black Vinyl Mask | 16-206-01 |
| Clear | 16-220-01 |
| Clear | 16-222-01 |
| Clear | 16-223-01 |
| Clear | 16-231-01 |
| Clear | 16-243-01 |
| Clear | 16-244-01 |
| Clear | 16-270-01 |
| Clear | 16-271-01 |
| Clear | 16-282-01 |
| Clear | 16-320-01 |
| Clear | 16-401-01 |
| Clear | 16-403-01 |
| Clear | 16-408-01 |
| Clear | 16-425-01 |
| Clear | 16-426-01 |
| Clear | 16-441-01 |
| Clear | 16-443-01 |
| Clear | 16-454-01 |
| Clear | 16-460-01 |
| Clear | 16-461-01 |
| Clear | 16-462-01 |
| Clear | 16-523-01 |
| Clear | 16-532-01 |
| Clear | 16-536-01 |
| Clear / Standard | 16-537-01 |
| Clear | 16-708-01 |
| Clear | 16-738-01 |
| Clear | 16-763-01 |
| Clear | 16-855-01 |
| Clear | 16-901-01 |
| Clear | 16-905-01 |
| Clear / Without Black Vinyl Mask | 16-914-01 |
| Clear / Standard | 16-945-01 |
| Clear | 16-542-01 |
| Dark Smoke | 16-203-19 |
| Dark Smoke | 16-204-19 |
| Dark Smoke | 16-222-19 |
| Dark Smoke | 16-223-19 |
| Dark Smoke | 16-227-19 |
| Dark Smoke | 16-244-19 |
| Dark Smoke | 16-263-19 |
| Dark Smoke | 16-281-19 |
| Dark Smoke | 16-402-19 |
| Dark Smoke | 16-403-19 |
| Dark Smoke / Standard | 16-417-19 |
| Dark Smoke | 16-106-19 |
| Dark Smoke | 16-107-19 |
| Dark Smoke | 16-108-19 |
| Dark Smoke | 16-110-19 |
| Dark Smoke | 16-111-19 |
| Dark Smoke | 16-441-19 |
| Dark Smoke | 16-461-19 |
| Dark Smoke | 16-506-19 |
| Dark Smoke / Standard | 16-507-19 |
| Dark Smoke / Standard | 16-133-19 |
| Dark Smoke | 16-157-19 |
| Dark Smoke | 16-245-19 |
| Dark Smoke | 16-246M-19 |
| Dark Smoke | 16-261-19 |
| Dark Smoke | 16-271-19 |
| Dark Smoke | 16-272-19 |
| Dark Smoke | 16-404-19 |
| Dark Smoke | 16-405-19 |
| Dark Smoke | 16-406-19 |
| Dark Smoke | 16-407-19 |
| Dark Smoke / Standard | 16-537-19 |
| Dark Smoke | 16-576-19 |
| Dark Smoke | 16-729-19 |
| Dark Smoke | 16-810-19 |
| Dark Smoke | 16-909-19 |
| Dark Smoke | 16-109M-19 |
| Dark Smoke | 16-423-19 |
| Dark Smoke | 16-454-19 |
| Dark Smoke | 16-464-19 |
| Dark Smoke | 16-538-19 |
| Dark Smoke | 16-539-19 |
| Dark Smoke | 16-540-02 |
| Dark Smoke | 16-577-19 |
| Dark Smoke | 16-578-19 |
| Dark Smoke | 16-579-19 |
| Dark Smoke | 16-463-19 |
| Dark Smoke | 16-972-19 |
| Dark Smoke | 16-855-19 |
| Dark Smoke | 16-726R-19 |
| Dark Smoke | 16-727-19 |
| Dark Smoke | 16-728R-19 |
| Dark Smoke | 16-704-19 |
| Dark Smoke | 16-225-19 |
| Dark Smoke | 16-231-19 |
| Dark Smoke | 16-243-19 |
| Dark Smoke | 16-253-19 |
| Dark Smoke | 16-325-19 |
| Dark Smoke | 16-167-19 |
| Dark Smoke | 16-901-19 |
| Dark Smoke | 16-523-19 |
| Dark Smoke | 16-520-19 |
| Dark Smoke | 16-424-19 |
| Dark Smoke | 16-262-19 |
| Dark Smoke | 16-112-19 |
| Dark Smoke | 16-113-19 |
| Dark Smoke / Standard | 16-134-19 |
| Dark Smoke | 16-580-19 |
| Dark Smoke | 16-541-19 |
| Dark Smoke | 16-912-19 |
| Dark Smoke | 16-105-19 |
| Dark Smoke | 16-114-19 |
| Dark Smoke | 16-103-19 |
| Dark Smoke | 16-132-19 |
| Dark Smoke | 16-156-19 |
| Dark Smoke | 16-166-19 |
| Dark Smoke | 16-171-19 |
| Dark Smoke | 16-180-19 |
| Dark Smoke / Hi Profile | 16-203b-19 |
| Dark Smoke / Without Black Vinyl Mask | 16-206-19 |
| Dark Smoke | 16-207-19 |
| Dark Smoke | 16-241-19 |
| Dark Smoke | 16-282-19 |
| Dark Smoke | 16-320-19 |
| Dark Smoke | 16-401-19 |
| Dark Smoke | 16-408-19 |
| Dark Smoke | 16-425-19 |
| Dark Smoke | 16-426-19 |
| Dark Smoke | 16-443-19 |
| Dark Smoke | 16-453-19 |
| Dark Smoke | 16-460-19 |
| Dark Smoke | 16-535-19 |
| Dark Smoke | 16-702-19 |
| Dark Smoke | 16-738-19 |
| Dark Smoke | 16-763-19 |
| Dark Smoke | 16-859-19 |
| Dark Smoke | 16-906-19 |
| Dark Smoke | 16-907-19 |
| Dark Smoke | 16-908-19 |
| Dark Smoke | 16-910-19 |
| Dark Smoke / Lo Profile | 16-911a-19 |
| Dark Smoke / Without Black Vinyl Mask | 16-913-19 |
| Dark Smoke / Without Black Vinyl Mask | 16-914-19 |
| Dark Smoke / Standard | 16-945-19 |
| Dark Smoke | 16-811-19 |
| Dark Smoke | 16-444-19 |
| Dark Smoke | 16-553-19 |
| Dark Smoke | 16-542-19 |
| Dark Smoke | 16-739-19 |
| Dark Smoke | 16-764-19 |
| Red | 16-203-09 |
| Red | 16-106-09 |
| Red | 16-246M-09 |
| Red | 16-406-09 |
| Red | 16-539-09 |
| Red | 16-727-09 |
| Dark Blue | 16-106-04 |
| Dark Blue | 16-107-04 |
| Dark Blue | 16-108-04 |
| Dark Blue | 16-110-04 |
| Dark Blue | 16-246M-04 |
| Dark Blue | 16-109M-04 |
| Dark Blue | 16-539-04 |
| Dark Blue | 16-577-04 |
| Dark Blue | 16-578-04 |
| Dark Blue | 16-579-04 |
| Yellow | 16-106-06 |
| Yellow | 16-111-06 |
| Yellow | 16-109M-06 |
| Green | 16-262-13 |