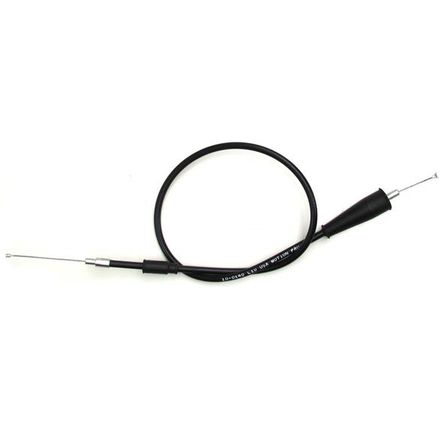 Motion Pro Throttle Cable
---
9% Off - Save up to $5.00
---
5 Star
91
4 Star
18
3 Star
3
2 Star
2
1 Star
6
Write a Review
Write your review and you'll automatically be entered in our monthly drawing. Include an image or video to DOUBLE your chances to win!
Write Your Review
1 month 18 days ago
Louisville Ky
Quality merchandise
Timely delivery, at a fair price. My bike is running fine.
1 month 19 days ago
Harrogate, TN
Perfect fit!
Easy to install and has worked perfect since I got it.
2 months 5 days ago
Idaho
Quick Fix
Easy to install and works great.
Way too long
Said it would fit my bike, but they were at least 6" longer than OE. Couldn't route them properly and they bound up. Not good. 2007 Kim 250 xcf.
3 months 20 days ago
Tracy, CA
Awesome cable
I have purchased motion pro cables from crf50 to
vintage bikes. They always work great and never
have had a problem. Keep cables lubed.
Ttr 230 throttle cable
Perfect fit to my 2006 ttr 230.
3 months 25 days ago
Snohomish, WA
Don't bother!
These cables were garbage. I got them for an 07 CRF450 I was rebuilding. I tried motion pro cables once before and wasn't impressed. Since they were less than half the price of OE I thought I'd try again. Lesson learned, you get what you pay for. The cables not only caused the throttle to stick (works fine off the bike, but the cables won't make the bend around the steering head without binding inside. In addition, the cables were too short to get any free play, even with the carb and throttle end shortened all the way.
The clutch cable worked but felt like it had Buick springs in the clutch.

Replaced with OE, no more issues. I'd suggest everyone do the same.
4 months 19 days ago
Lake City, FL, USA
Perfect
Came before my weekend ride perfect unopened condition very happy. Thank you. And I'm rocking the stickers you sent also. Keep them coming.
Q: Would this cable be able to fit a 04 cr85r
JerryGearhead
6 days 13 hours ago
A: Yes it will, and we have it stock today
Q: Will this replace the OEM thumb throttle cable?
Isaac
12 days ago
A: You did not list the model you are working on to verify. Please give us a call at 1-888-676-8853 to assist you.
Q: Will this fit on a 2006 Honda 70 CRF on an after-market carburetor not the stock
rknight
13 days ago
A: If the carb you have uses a stock style cable then it should. If not then this cable will not work for that.
Q: Will this fit on an 01' Yamaha banshee 350 with an aftermarket single 35mm carbeurater with vforce reeds?
Michael
3 months 21 days ago
A: Yes as long as you are working with stock length, order with confidence.
Q: Just wanted to confirm that both cables come with this order? (Top and bottom). As it only shows one in the picture.
BillyEXT3407
3 months 25 days ago
A: The Motion Pro Throttle cabel will be sold with both Push and Pull cables for your 2002 YZ426.
Q: Do u have straight cable 26" case, 30" overall ?
David
Over 5 months ago
A: These cables are direct replacement of your bike depending on MMY.
Q: I need a throttle cable for a 2003 cobra pw3. Do you have One?
David
Over 6 months ago
A: We do not offer a cable for your 2003 Cobra PW3.
Q: I need a replacement throttle cable and the parts that go down into the carb. I have a 1972 Honda Mini Trail 50. Thanks and let me know.
robert
Over 7 months ago
A: We currently do not carry any Honda trail 50 parts.
Q: Pw50 without oil pump
I removed the oil pump on my pw50 so i do not need the split cable. Can i order this for the pw50 with the throttle cable only?
Q: Motion Pro Vortex throttle cable & Motion Pro Vortex throttle tube assembly
i would like to know if this cable will work with the Motion Pro Vortex throttle tube assembly or if it requires a different throttle cable thanks ~kyle
See all bikes that this part fits...
| Product Variant | Manufacturer Part # |
| --- | --- |
| Stock | 05-0315 |
| Stock | 10-0051 |
| Stock | 10-0092 |
| Stock | 10-0094 |
| Stock | 10-0095 |
| Stock | 10-0097 |
| Stock | 05-0363 |
| Stock | 10-0099 |
| Stock | 10-0111 |
| Stock | 10-0126 |
| Stock | 10-0115 |
| Stock | 10-0117 |
| Stock | 10-0135 |
| Stock | 10-0136 |
| Stock | 10-0141 |
| Stock | 02-0408 |
| Stock | 02-0411 |
| Stock | 02-0135 |
| Stock | 02-0152 |
| Stock | 02-0191 |
| Stock | 02-0202 |
| Stock | 02-0247 |
| Stock | 02-0321 |
| Stock | 02-0381 |
| Stock | 02-0384 |
| Stock | 02-0414 |
| Stock | 02-0418 |
| Stock | 02-0472 |
| Stock | 02-0517 |
| Stock | 02-0546 |
| Stock | 02-0561 |
| Stock | 02-0568 |
| Stock | 02-0590 |
| Stock | 02-0582 |
| Stock | 02-0584 |
| Stock | 03-0350 |
| Stock | 03-0362 |
| Stock | 03-0162 |
| Stock | 03-0169 |
| Stock | 03-0186 |
| Stock | 03-0189 |
| Stock | 03-0211 |
| Stock | 03-0357 |
| Stock | 03-0369 |
| Stock | 03-0382 |
| Stock | 03-0385 |
| Stock | 03-0430 |
| Stock | 04-0249 |
| Stock | 04-0043 |
| Stock | 04-0106 |
| Stock | 04-0107 |
| Stock | 04-0111 |
| Stock | 04-0118 |
| Stock | 04-0119 |
| Stock | 04-0131 |
| Stock | 04-0144 |
| Stock | 04-0155 |
| Stock | 04-0156 |
| Stock | 04-0165 |
| Stock | 04-0193 |
| Stock | 04-0208 |
| Stock | 04-0215 |
| Stock | 04-0228 |
| Stock | 04-0234 |
| Stock | 04-0258 |
| Stock | 04-0272 |
| Stock | 04-0293 |
| Stock | 04-0302 |
| Stock | 04-0303 |
| Stock | 05-0376 |
| Stock | 05-0118 |
| Stock | 05-0136 |
| Stock | 05-0153 |
| Stock | 05-0154 |
| Stock | 05-0165 |
| Stock | 05-0193 |
| Stock | 05-0194 |
| Stock | 05-0206 |
| Stock | 05-0236 |
| Stock | 05-0237 |
| Stock | 05-0238 |
| Stock | 05-0241 |
| Stock | 05-0285 |
| Stock | 05-0286 |
| Stock | 05-0317 |
| Stock | 05-0319 |
| Stock | 05-0327 |
| Stock | 05-0355 |
| Stock | 05-0337 |
| Stock | 05-0349 |
| Stock | 05-0352 |
| Stock | 05-0377 |
| Stock | 05-0380 |
| Stock | 05-0383 |
| Stock | 05-0388 |
| Stock | 05-0396 |
| Stock | 02-0184 |
| Stock | 02-0218 |
| Stock | 02-0222 |
| Stock | 02-0228 |
| Stock | 02-0277 |
| Stock | 02-0282 |
| Stock | 02-0375 |
| Stock | 02-0419 |
| Stock | 02-0423 |
| Stock | 02-0439 |
| Stock | 02-0485 |
| Stock | 02-0486 |
| Stock | 03-0008 |
| Stock | 03-0037 |
| Stock | 03-0054 |
| Stock | 03-0083 |
| Stock | 03-0091 |
| Stock | 03-0117 |
| Stock | 03-0181 |
| Stock | 03-0190 |
| Stock | 03-0201 |
| Stock | 03-0253 |
| Stock | 03-0266 |
| Stock | 03-0309 |
| Stock | 04-0024 |
| Stock | 04-0032 |
| Stock | 04-0052 |
| Stock | 04-0059 |
| Stock | 04-0061 |
| Stock | 04-0062 |
| Stock | 04-0064 |
| Stock | 04-0103 |
| Stock | 04-0105 |
| Stock | 04-0110 |
| Stock | 04-0114 |
| Stock | 04-0115 |
| Stock | 04-0137 |
| Stock | 04-0141 |
| Stock | 04-0196 |
| Stock | 05-0020 |
| Stock | 05-0024 |
| Stock | 05-0040 |
| Stock | 05-0050 |
| Stock | 05-0051 |
| Stock | 05-0052 |
| Stock | 05-0072 |
| Stock | 05-0107 |
| Stock | 05-0109 |
| Stock | 05-0112 |
| Stock | 05-0130 |
| Stock | 05-0142 |
| Stock | 05-0166 |
| Stock | 05-0188 |
| Stock | 05-0191 |
| Stock | 10-0012 |
| Stock | 10-0035 |
| Stock | 10-0052 |
| Stock | 10-0086 |
| Stock | 10-0090 |
| Stock | 10-0091 |
| Stock | 10-0093 |
| Stock | 10-0096 |
| Stock | 10-0098 |
| Stock | 02-0036 |
| Stock | 05-0213 |
| Stock | 05-0223 |
| Stock | 05-0282 |
| Stock | 05-0284 |
| Stock | 02-0048 |
| Stock | 02-0054 |
| Stock | 02-0057 |
| Stock | 02-0062 |
| Stock | 02-0136 |
| Stock | 02-0138 |
| Stock | 02-0151 |
| Stock | 04-0299 |
| Stock | 02-0009 |
| Stock | 02-0014 |
| Stock | 02-0046 |
| Stock | 02-0077 |
| Stock | 02-0185 |
| Stock | 02-0188 |
| Stock | 02-0197 |
| +3" | 02-0489 |
| Stock | 02-0519 |
| +4" | 03-0363 |
| +2" | 03-0376 |
| Stock | 03-0436 |
| Stock | 04-0203 |
| Stock | 04-0330 |
| Stock | 05-0075 |
| Stock | 05-0123 |
| Stock | 05-0393 |
| Stock | 05-0398 |
| Stock | 05-0405 |
| Stock | 05-0407 |
| Stock | 10-0062 |
| Stock | 10-0127 |
| Stock | 10-0131 |
| Stock | 10-0133 |
| Stock | 10-0134 |
| Stock | 10-0137 |
| +3" | 10-0138 |
| Stock | 10-0138 |
| Stock | 10-0140 |
| Stock | 10-0152 |
| Stock | 10-0157 |
| Stock | 10-0158 |