FMF
FMF Turbinecore 2 Spark Arrestor Silencer - 2-Stroke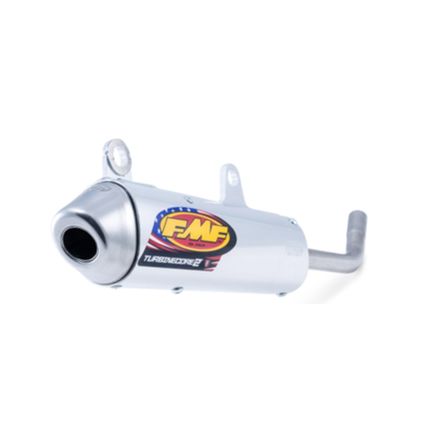 FMF Turbinecore 2 Spark Arrestor Silencer - 2-Stroke
---
10% Off - Save up to $30.00
---
5 Star
64
4 Star
13
3 Star
2
2 Star
1
1 Star
1
Write a Review
Write your review and you'll automatically be entered in our monthly drawing. Include an image or video to DOUBLE your chances to win!
Write Your Review
2 months 8 days ago
Albany, Louisiana
Great silencer
Like it a lot will buy it again
2 months 16 days ago
Michigan, USA
Perfect fit!
Silencer fits perfect with no jetting required!
Great muffler
Sounds much better and the spark arrester is nice for forestry areas
4 months 28 days ago
Neptune
Super nice
I love this pipe and it did make my bike feel a little different
Over 8 months ago
Costa Mesa, CA, USA
Best Exhaust Pipe I've owned
By far the best Exhaust pipe I've ever purchased... extremely easy to put on and runs very smooth. Makes the 2-Stroke smell even better.
Great fit.
I bought this because its approved by the forestry service. i put it on a yz 250 that i ride in the woods. It quieted the bike considerably with no loss of power. I have the universal fit model on my 84 cr 250 it works great too. This one bolted right up to the yz no problems its very sturdy i have even crashed with it and there was no damage. I would recommend it to anyone who is riding a motocross bike in the woods and wants to race or ride in a state park. Or just for the peace of mind of knowing that you wont have a forest fire raging behind you when you stop and look back.
1 year 1 month ago
Fontana, CA, USA
Fmf turbine core 2
Does the job, a good bang for your buck.
1 year 2 months ago
Orem UT
Turbine Core 2 Spark Arrestor
The pipe bolted right up to my 2003 YZ 250, it puts out an awesome sound really deep. I have been using Motorsport for a long time for all kinds of parts and the shipping is always fast and reliable and you can't beat the pricing.
1 year 7 months ago
Los Angeles, CA, USA
Good pipe for the price!
Overall good exhaust pipe for forest requirements in california. had to trim it a little to fit right with the fatty pipe which sucked a lil bit but overall very simple install, and sounds good, noticed a minor increase in low end torque with the fatty and this tail pipe
Q: I ordered this pipe last week, is there any way of knowing when you'll be getting them back in stock?
David
Over 6 months ago
A: Give us a call and one our Gearheads can assist you with your order.
Q: Are you ever going to get the FMF Turbinecore 2 silencer back in stock for the 2001 Suzuki RM 125?
David
Over 7 months ago
A: We have no ETA from FMF at the moment.
Q: Will the silencer come with mounts to mount to the bike?
My mounts broke for my Powercore 2, so i am buying a new silencer. Will it come with new mounts? Or is the silencer the only thing that comes in the box? If so, where can i find new mounts. It seems that nobody makes aftermarket mounts.
robert
Over 7 months ago
A: The silence has a built on tab that mounts to the bike with a rubber spacer and a bolt.
Q: I just got an 04 KTM 250SX. Will this fit my bike? Also do I need to re jet my bike or just bolt it on and good to go?
Thumbs
Over 9 months ago
A: Yes they have a TurbineCore 2 for your bike, just be sure to enter in your Make Model and Year when you go to select the Spark Arrestor. You will need to re-jet your bike if you haven't already for an aftermarket exhaust.
Q: Difference between Turbinecore 2's?
Which is quieter - the Turbinecore 2 or the Turbinecore 2 Q? Do both come with a removable spark arrestor screen?
BillyEXT3407
Over 9 months ago
A: The FMF Turbinecore 2 silencer will be louder than the Turbinecore 2 Q silencer. Both silencers do not have removable screens.
Jake
Over 9 months ago
A: So the FMF pipes in the Q series are exactly what they are stamped. Thats the line of pipes FMF makes that are quieter than there non Q counterparts.
Q: Will this silencer fit Oem pipe on 2003 Kawasaki kx85
Q: What is the length difference between the 2017 KTM 300 XC stock silencer vs. the turbinecore 2 vs. the turbinecore2.1?
Q: Will it fit
Will it fit on a 2017 KTM 85 sx? If I just slide the stock exhaust that comes on the bike off will the FMF fit?
Q: Will this silencer fit my bills pipe?
MotoSportExpert
1 year 11 months ago
A: Fitment between brands can not be guaranteed, but you shouldn't have any issues.
Q: My sons bike has a Bills pipe/silencer. Will the FMF spark arrester silencer fit my expansion chamber on my Bills pipe?
The bike is my sons 2003 YZ85
MotoSportExpert
1 year 11 months ago
A: Compatibility between the two brands can not be guaranteed however you should not have an issue on your 2003 Yamaha YZ85.
See all bikes that this part fits...
| Product Variant | Manufacturer Part # |
| --- | --- |
| FMF Turbinecore 2 Spark Arrestor Silencer - 2-Stroke | 025227 |
| FMF Turbinecore 2 Spark Arrestor Silencer - 2-Stroke | 020360 |
| FMF Turbinecore 2 Spark Arrestor Silencer - 2-Stroke | 020359 |
| FMF Turbinecore 2 Spark Arrestor Silencer - 2-Stroke | 020331 |
| FMF Turbinecore 2 Spark Arrestor Silencer - 2-Stroke | 021012 |
| FMF Turbinecore 2 Spark Arrestor Silencer - 2-Stroke | 020332 |
| FMF Turbinecore 2 Spark Arrestor Silencer - 2-Stroke | 021017 |
| FMF Turbinecore 2 Spark Arrestor Silencer - 2-Stroke | 020327 |
| FMF Turbinecore 2 Spark Arrestor Silencer - 2-Stroke | 020328 |
| FMF Turbinecore 2 Spark Arrestor Silencer - 2-Stroke | 020329 |
| FMF Turbinecore 2 Spark Arrestor Silencer - 2-Stroke | 020324 |
| FMF Turbinecore 2 Spark Arrestor Silencer - 2-Stroke | 020339 |
| FMF Turbinecore 2 Spark Arrestor Silencer - 2-Stroke | 025127 |
| FMF Turbinecore 2 Spark Arrestor Silencer - 2-Stroke | 025139 |
| FMF Turbinecore 2 Spark Arrestor Silencer - 2-Stroke | 025067 |
| FMF Turbinecore 2 Spark Arrestor Silencer - 2-Stroke | 025082 |
| FMF Turbinecore 2 Spark Arrestor Silencer - 2-Stroke | 025059 |
| FMF Turbinecore 2 Spark Arrestor Silencer - 2-Stroke | 020309 |
| FMF Turbinecore 2 Spark Arrestor Silencer - 2-Stroke | 025027 |
| FMF Turbinecore 2 Spark Arrestor Silencer - 2-Stroke | 020313 |
| FMF Turbinecore 2 Spark Arrestor Silencer - 2-Stroke | 025105 |
| FMF Turbinecore 2 Spark Arrestor Silencer - 2-Stroke | 022021 |
| FMF Turbinecore 2 Spark Arrestor Silencer - 2-Stroke | 020344 |
| FMF Turbinecore 2 Spark Arrestor Silencer - 2-Stroke | 020337 |
| FMF Turbinecore 2 Spark Arrestor Silencer - 2-Stroke | 022026 |
| FMF Turbinecore 2 Spark Arrestor Silencer - 2-Stroke | 020340 |
| FMF Turbinecore 2 Spark Arrestor Silencer - 2-Stroke | 020342 |
| FMF Turbinecore 2 Spark Arrestor Silencer - 2-Stroke | 020338 |
| FMF Turbinecore 2 Spark Arrestor Silencer - 2-Stroke | 023036 |
| FMF Turbinecore 2 Spark Arrestor Silencer - 2-Stroke | 024035 |
| FMF Turbinecore 2 Spark Arrestor Silencer - 2-Stroke | 024038 |
| FMF Turbinecore 2 Spark Arrestor Silencer - 2-Stroke | 020370 |
| FMF Turbinecore 2 Spark Arrestor Silencer - 2-Stroke | 023024 |
| FMF Turbinecore 2 Spark Arrestor Silencer - 2-Stroke | 020405 |
| FMF Turbinecore 2 Spark Arrestor Silencer - 2-Stroke | 023029 |
| FMF Turbinecore 2 Spark Arrestor Silencer - 2-Stroke | 020371 |
| FMF Turbinecore 2 Spark Arrestor Silencer - 2-Stroke | 023010 |
| FMF Turbinecore 2 Spark Arrestor Silencer - 2-Stroke | 020362 |
| FMF Turbinecore 2 Spark Arrestor Silencer - 2-Stroke | 024012 |
| FMF Turbinecore 2 Spark Arrestor Silencer - 2-Stroke | 020357 |
| FMF Turbinecore 2 Spark Arrestor Silencer - 2-Stroke | 020363 |
| FMF Turbinecore 2 Spark Arrestor Silencer - 2-Stroke | 024017 |
| FMF Turbinecore 2 Spark Arrestor Silencer - 2-Stroke | 020361 |
| FMF Turbinecore 2 Spark Arrestor Silencer - 2-Stroke | 020356 |
| FMF Turbinecore 2 Spark Arrestor Silencer - 2-Stroke | 020310 |
| FMF Turbinecore 2 Spark Arrestor Silencer - 2-Stroke | 020311 |
| FMF Turbinecore 2 Spark Arrestor Silencer - 2-Stroke | 025054 |
| FMF Turbinecore 2 Spark Arrestor Silencer - 2-Stroke | 020325 |
| FMF Turbinecore 2 Spark Arrestor Silencer - 2-Stroke | 020330 |
| FMF Turbinecore 2 Spark Arrestor Silencer - 2-Stroke | 020358 |
| FMF Turbinecore 2 Spark Arrestor Silencer - 2-Stroke | 024066 |
| FMF Turbinecore 2 Spark Arrestor Silencer - 2-Stroke | 025011 |
| FMF Turbinecore 2 Spark Arrestor Silencer - 2-Stroke | 025094 |
| FMF Turbinecore 2 Spark Arrestor Silencer - 2-Stroke | 025113 |
| FMF Turbinecore 2 Spark Arrestor Silencer - 2-Stroke | 025165 |
| FMF Turbinecore 2 Spark Arrestor Silencer - 2-Stroke | 025167 |
| FMF Turbinecore 2 Spark Arrestor Silencer - 2-Stroke | 025181 |
| FMF Turbinecore 2 Spark Arrestor Silencer - 2-Stroke | 025189 |