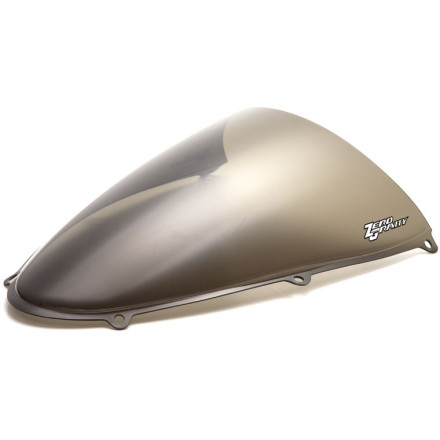 Zero Gravity SR Series Windscreen
---
10% Off - Save up to $11.49
---
5 Star
22
4 Star
4
3 Star
1
2 Star
0
1 Star
0
Write a Review
Write your review and you'll automatically be entered in our monthly drawing. Include an image or video to DOUBLE your chances to win!
Write Your Review
1 year 1 month ago
Portland OR
Good product fast shipping!
Went with the SR version looks like the factory look besides the smoke screen love it!
1 year 9 months ago
Dubuque, IA, USA
Zero gravity windshield
Great product. Thank you. I have an 87 gsxr, fitment was great. Happy to see someone still offered this windshield.
1 year 11 months ago
Los Angeles, CA, USA
Great fit
Bought it for my boyfriend's R1. Was afraid he wouldn't like it but he loved it. The the SR series looks the best on the R1 by the way. Looks just like the stock but light smog. Recommend this product even thou it took a while to receive, still got it in time.
Great replacement windscreen
Wind screen fit perfect on my 1987 FZR1000. Zero gravity is the only company that makes a windscreen for this bike that I could find and motosport had the best price. It took a little longer to get because I had ordered the clear but it was worth it. I'm glad I could still find this part for my bike and am thankful for motosport for having parts for these older bikes
2 years 2 months ago
California
Great product
Recently I installed this windscreen on my ninja 650 and it performed great. It was easy to install and it looks great on my bike.
Over 3 years ago
Houston TX
Zero Gravity for Triumph Daytona 675
Perfect fit on this windscreen! the light smoke giving the bike a nice look! I would recommend this product to anyone wanting to ditch their clear screen for a finished look!.
Good for the money
Windshield shipped very fast and free, fitment was great. The only thing keeping it from 5 stars is it had about a 3" long scratch right on the middle of it. I didn't care to take the time and send it back so I just installed it anyways. functions great, same as factory but with a much better look.
Over 4 years ago
Mission Viejo, CA, USA
Looks and fits great!
Everything I expected from ZeroGravity. The look, fit and quality are top notch. One minor issue though. The angle at the base of the shield is a bit off, creating an angled gap. Larger gap at the most foreward edges around the 6R's "Power Chrystal", tapering back to a more OEM gap. Again, it is a minor issue, and one I am sure only I will notice. Mounting was a brease. Mounting holes lined up perfectly, and looks great.
Over 4 years ago
La Rue, OH 43332, USA
Best purchase ever!
recieved the blue Zero Gravity windscreen and was an easy bolt on windscreen. holes lines up perfectly and the blue color matched the blue lighting bolts on the bike to a tee. very nice purchase
Over 5 years ago
Scotland
Nice screen
Bought this for my '93 gsx600 katana and fits perfect and is much better looking than the clear original
Q: I'm looking for purple
I have a 99 Kawasaki ex500 and am looking for a purple wind screen to finish my Riddler style paint job. Do you have any thing?
Q: What is the part # for this product?
MotoSportExpert
1 year 8 months ago
A: IT will depend on the model bike it is being ordered for. Feel free to give us a call at 888-676-8853 and we would be happy to help you out with your order.
Q: Does this shield fit a 1993 750 GSXR
MotoSportExpert
2 years 11 months ago
A: For the 1993 Suzuki GSXR750 you would need the 20-090 SR Series shield. If the shield is available through one of our suppliers, we would be happy to order it for you. Please contact one of our sales professionals to inquire about special orders and availability.
Dirt Bike / ATV: 1-888-676-8853
Q: Can u special order an orange one to fit my 89 fzr1000
MotoSportGrantK
Over 3 years ago
A: Unfortunately the only current color option for your 1989 Yamaha FZR1000 is light smoke. I am unaware of any company offering a windscreen in orange.
Q: Special order
I have a 2007 Cbr 1000 rr. Can you special order an orange SR screen for this, and what would the price be?
MotoSportExpert
Over 4 years ago
A: If you can give us a call on this, we are more than happy to help you out with availability and pricing on this special request.
See all bikes that this part fits...
| Product Variant | Manufacturer Part # |
| --- | --- |
| Clear | N/A |
| Dark Smoke | N/A |
| Smoke | N/A |
| Light Smoke | 20-114-02 |
| Light Smoke | 20-132-02 |
| Light Smoke | 20-153-02 |
| Light Smoke | 20-155-02 |
| Light Smoke | 20-156-02 |
| Light Smoke | 20-166-02 |
| Light Smoke | 20-167-02 |
| Light Smoke | 20-170-02 |
| Light Smoke | 20-171-02 |
| Light Smoke | 20-201-02 |
| Light Smoke | 20-204-02 |
| Light Smoke | 20-222-02 |
| Light Smoke | 20-223-02 |
| Light Smoke | 20-244-02 |
| Light Smoke | 20-253-02 |
| Light Smoke | 20-263-02 |
| Light Smoke | 20-271-02 |
| Light Smoke | 20-290-02 |
| Light Smoke | 20-315-02 |
| Light Smoke | 20-401-02 |
| Light Smoke | 20-403-02 |
| Light Smoke | 20-422-02 |
| Light Smoke | 20-425-02 |
| Light Smoke | 20-441-02 |
| Light Smoke | 20-461-02 |
| Light Smoke | 20-462-02 |
| Light Smoke | 20-506-02 |
| Light Smoke / Standard | 20-507-02 |
| Light Smoke | 20-520-02 |
| Light Smoke | 20-521-02 |
| Light Smoke / Standard | 20-537-02 |
| Light Smoke | 20-576-02 |
| Light Smoke | 20-708-02 |
| Light Smoke | 20-729-02 |
| Light Smoke | 20-106-02 |
| Light Smoke | 20-107-02 |
| Light Smoke | 20-108-02 |
| Light Smoke | 20-109M-02 |
| Light Smoke | 20-110-02 |
| Light Smoke | 20-111-02 |
| Light Smoke / Standard | 20-133-02 |
| Light Smoke | 20-151M-02 |
| Light Smoke | 20-157-02 |
| Light Smoke | 20-241-02 |
| Light Smoke | 20-245-02 |
| Light Smoke | 20-246M-02 |
| Light Smoke | 20-261-02 |
| Light Smoke | 20-274-02 |
| Light Smoke | 20-280-02 |
| Light Smoke | 20-291-02 |
| Light Smoke | 20-404-02 |
| Light Smoke | 20-405-02 |
| Light Smoke | 20-407-02 |
| Light Smoke | 20-423-02 |
| Light Smoke | 20-464-02 |
| Light Smoke | 20-539-02 |
| Light Smoke | 20-540-02 |
| Light Smoke | 20-577-02 |
| Light Smoke | 20-578-02 |
| Light Smoke | 20-579-02 |
| Light Smoke | 20-424-02 |
| Light Smoke | 20-262-02 |
| Light Smoke | 20-112-02 |
| Light Smoke | 20-113-02 |
| Light Smoke / Standard | 20-134-02 |
| Light Smoke | 20-541-02 |
| Light Smoke | 20-580-02 |
| Light Smoke | 20-090-02 |
| Light Smoke | 20-103-02 |
| Light Smoke | 20-104-02 |
| Light Smoke | 20-105-02 |
| Light Smoke | 20-972-02 |
| Light Smoke | 20-973-02 |
| Light Smoke | 20-810-02 |
| Light Smoke | 20-726-02 |
| Light Smoke | 20-728-02 |
| Light Smoke | 20-702-02 |
| Light Smoke | 20-420-02 |
| Light Smoke | 20-421-02 |
| Light Smoke | 20-400-02 |
| Light Smoke | 20-460-02 |
| Light Smoke | 20-455-02 |
| Light Smoke | 20-452-02 |
| Light Smoke | 20-454-02 |
| Light Smoke | 20-453-02 |
| Light Smoke | 20-203-02 |
| Light Smoke | 20-311-02 |
| Light Smoke | 20-230-02 |
| Light Smoke | 20-260-02 |
| Light Smoke | 20-240-02 |
| Light Smoke | 20-200-02 |
| Light Smoke | 20-242-02 |
| Light Smoke | 20-250-02 |
| Light Smoke | 20-251-02 |
| Light Smoke | 20-252-02 |
| Light Smoke | 20-210-02 |
| Light Smoke | 20-220-02 |
| Light Smoke | 20-221-02 |
| Light Smoke | 20-175-02 |
| Light Smoke | 20-176-02 |
| Light Smoke | 20-152-02 |
| Light Smoke | 20-130-02 |
| Light Smoke | 20-131-02 |
| Light Smoke | 20-100-02 |
| Light Smoke | 20-101-02 |
| Light Smoke | 20-102-02 |
| Light Smoke | 20-549-02 |
| Light Smoke | 20-550-02 |
| Light Smoke | 20-551-02 |
| Light Smoke | 20-523-02 |
| Light Smoke | 20-530-02 |
| Light Smoke | 20-531-02 |
| Light Smoke | 20-532-02 |
| Light Smoke | 20-500-02 |
| Light Smoke | 20-510-02 |
| Light Smoke | 20-560-02 |
| Light Smoke | 20-504-02 |
| Light Smoke | 20-535-02 |
| Light Smoke | 20-570-02 |
| Light Smoke | 20-161-02 |
| Light Smoke | 20-180-02 |
| Light Smoke / Without Black Vinyl Mask | 20-206-02 |
| Light Smoke / With Black Vinyl Mask | 20-206v-02 |
| Light Smoke | 20-207-02 |
| Light Smoke | 20-212-02 |
| Light Smoke | 20-270-02 |
| Light Smoke | 20-282-02 |
| Light Smoke | 20-408-02 |
| Light Smoke / Standard | 20-417b-02 |
| Light Smoke | 20-426-02 |
| Light Smoke | 20-443-02 |
| Light Smoke | 20-465-02 |
| Light Smoke | 20-738-02 |
| Light Smoke | 20-855-02 |
| Light Smoke | 20-859-02 |
| Light Smoke / Without Black Vinyl Mask | 20-913-02 |
| Light Smoke / With Black Vinyl Mask | 20-914v-02 |
| Light Smoke / Standard | 20-945-02 |
| Light Smoke | 20-811-02 |
| Light Smoke | 20-444-02 |
| Light Smoke | 20-553-02 |
| Light Smoke | 20-542-02 |
| Light Smoke | 20-739-02 |
| Light Smoke | 20-764-02 |
| Dark Blue | 20-576-04 |
| Dark Blue | 20-106-04 |
| Dark Blue | 20-107-04 |
| Dark Blue | 20-108-04 |
| Dark Blue | 20-109M-04 |
| Dark Blue | 20-110-04 |
| Dark Blue | 20-111-04 |
| Dark Blue | 20-151M-04 |
| Dark Blue | 20-539-04 |
| Dark Blue | 20-578-04 |
| Dark Blue | 20-090-04 |
| Dark Blue | 20-103-04 |
| Dark Blue | 20-104-04 |
| Dark Blue | 20-152-04 |
| Dark Blue | 20-131-04 |
| Dark Blue | 20-101-04 |
| Dark Blue | 20-536-04 |
| Dark Smoke | 20-114-19 |
| Dark Smoke | 20-132-19 |
| Dark Smoke | 20-153-19 |
| Dark Smoke | 20-155-19 |
| Dark Smoke | 20-156-19 |
| Dark Smoke | 20-166-19 |
| Dark Smoke | 20-167-19 |
| Dark Smoke | 20-170-19 |
| Dark Smoke | 20-201-19 |
| Dark Smoke | 20-204-19 |
| Dark Smoke | 20-227-19 |
| Dark Smoke | 20-243-19 |
| Dark Smoke | 20-244-19 |
| Dark Smoke | 20-253-19 |
| Dark Smoke | 20-263-19 |
| Dark Smoke | 20-271-19 |
| Dark Smoke | 20-290-19 |
| Dark Smoke | 20-315-19 |
| Dark Smoke | 20-401-19 |
| Dark Smoke | 20-402-19 |
| Dark Smoke | 20-403-19 |
| Dark Smoke / Standard | 20-417-19 |
| Dark Smoke | 20-422-19 |
| Dark Smoke | 20-425-19 |
| Dark Smoke | 20-441-19 |
| Dark Smoke | 20-461-19 |
| Dark Smoke | 20-462-19 |
| Dark Smoke | 20-506-19 |
| Dark Smoke / Standard | 20-507-19 |
| Dark Smoke | 20-520-19 |
| Dark Smoke | 20-521-19 |
| Dark Smoke / Standard | 20-537-19 |
| Dark Smoke | 20-576-19 |
| Dark Smoke | 20-708-19 |
| Dark Smoke | 20-729-19 |
| Dark Smoke | 20-106-19 |
| Dark Smoke | 20-107-19 |
| Dark Smoke | 20-108-19 |
| Dark Smoke | 20-109M-19 |
| Dark Smoke | 20-110-19 |
| Dark Smoke | 20-111-19 |
| Dark Smoke / Standard | 20-133-19 |
| Dark Smoke | 20-151M-19 |
| Dark Smoke | 20-157-19 |
| Dark Smoke | 20-241-19 |
| Dark Smoke | 20-245-19 |
| Dark Smoke | 20-246M-19 |
| Dark Smoke | 20-261-19 |
| Dark Smoke | 20-272-19 |
| Dark Smoke | 20-274-19 |
| Dark Smoke | 20-280-19 |
| Dark Smoke | 20-291-19 |
| Dark Smoke | 20-404-19 |
| Dark Smoke | 20-405-19 |
| Dark Smoke | 20-406-19 |
| Dark Smoke | 20-407-19 |
| Dark Smoke | 20-423-19 |
| Dark Smoke | 20-463-19 |
| Dark Smoke | 20-464-19 |
| Dark Smoke | 20-538-19 |
| Dark Smoke | 20-539-19 |
| Dark Smoke | 20-540-19 |
| Dark Smoke | 20-577-19 |
| Dark Smoke | 20-578-19 |
| Dark Smoke | 20-579-19 |
| Dark Smoke | 20-424-19 |
| Dark Smoke | 20-281-19 |
| Dark Smoke | 20-262-19 |
| Dark Smoke | 20-112-19 |
| Dark Smoke | 20-113-19 |
| Dark Smoke / Standard | 20-134-19 |
| Dark Smoke | 20-541-19 |
| Dark Smoke | 20-580-19 |
| Dark Smoke | 20-912-19 |
| Dark Smoke | 20-090-19 |
| Dark Smoke | 20-103-19 |
| Dark Smoke | 20-104-19 |
| Dark Smoke | 20-105-19 |
| Dark Smoke | 20-972-19 |
| Dark Smoke | 20-973-19 |
| Dark Smoke | 20-810-19 |
| Dark Smoke | 20-855-19 |
| Dark Smoke | 20-726-19 |
| Dark Smoke | 20-728-19 |
| Dark Smoke | 20-704-19 |
| Dark Smoke | 20-460-19 |
| Dark Smoke | 20-454-19 |
| Dark Smoke | 20-453-19 |
| Dark Smoke | 20-203-19 |
| Dark Smoke | 20-225-19 |
| Dark Smoke | 20-221-19 |
| Dark Smoke | 20-325-19 |
| Dark Smoke | 20-100-19 |
| Dark Smoke | 20-901-19 |
| Dark Smoke | 20-536-19 |
| Dark Smoke | 20-152-19 |
| Dark Smoke | 20-161-19 |
| Dark Smoke | 20-176-19 |
| Dark Smoke | 20-180-19 |
| Dark Smoke / Without Black Vinyl Mask | 20-206-19 |
| Dark Smoke | 20-207-19 |
| Dark Smoke | 20-210-19 |
| Dark Smoke | 20-220-19 |
| Dark Smoke | 20-270-19 |
| Dark Smoke | 20-282-19 |
| Dark Smoke | 20-300-19 |
| Dark Smoke | 20-408-19 |
| Dark Smoke | 20-426-19 |
| Dark Smoke | 20-443-19 |
| Dark Smoke | 20-455-19 |
| Dark Smoke | 20-560-19 |
| Dark Smoke / Standard | 20-712-19 |
| Dark Smoke | 20-730b-19 |
| Dark Smoke | 20-738-19 |
| Dark Smoke | 20-859-19 |
| Dark Smoke | 20-910-19 |
| Dark Smoke / Without Black Vinyl Mask | 20-913-19 |
| Dark Smoke / Without Black Vinyl Mask | 20-914-19 |
| Dark Smoke / Standard | 20-945-19 |
| Dark Smoke | 20-811-19 |
| Dark Smoke | 20-444-19 |
| Dark Smoke | 20-553-19 |
| Dark Smoke | 20-739-19 |
| Dark Smoke | 20-764-19 |
| Clear | 20-114-01 |
| Clear | 20-153-01 |
| Clear | 20-172-01 |
| Clear | 20-204-01 |
| Clear | 20-253-01 |
| Clear | 20-263-01 |
| Clear | 20-401-01 |
| Clear | 20-402-01 |
| Clear / Standard | 20-507-01 |
| Clear | 20-520-01 |
| Clear / Standard | 20-537-01 |
| Clear | 20-729-01 |
| Clear | 20-106-01 |
| Clear | 20-107-01 |
| Clear | 20-108-01 |
| Clear | 20-109M-01 |
| Clear | 20-110-01 |
| Clear / Standard | 20-133-01 |
| Clear | 20-151M-01 |
| Clear | 20-157-01 |
| Clear | 20-245-01 |
| Clear | 20-246M-01 |
| Clear | 20-274-01 |
| Clear | 20-291-01 |
| Clear | 20-405-01 |
| Clear | 20-406-01 |
| Clear | 20-407-01 |
| Clear | 20-423-01 |
| Clear | 20-464-01 |
| Clear | 20-540-01 |
| Clear | 20-577-01 |
| Clear | 20-578-01 |
| Clear | 20-579-01 |
| Clear | 20-424-01 |
| Clear | 20-281-01 |
| Clear | 20-262-01 |
| Clear | 20-112-01 |
| Clear | 20-113-01 |
| Clear / Standard | 20-134-01 |
| Clear | 20-541-01 |
| Clear | 20-580-01 |
| Clear | 20-912-01 |
| Clear | 20-090-01 |
| Clear | 20-103-01 |
| Clear | 20-104-01 |
| Clear | 20-105-01 |
| Clear | 20-972-01 |
| Clear | 20-973-01 |
| Clear | 20-810-01 |
| Clear | 20-726-01 |
| Clear | 20-702-01 |
| Clear | 20-203-01 |
| Clear | 20-175-01 |
| Clear | 20-176-01 |
| Clear | 20-100-01 |
| Clear | 20-911-01 |
| Clear | 20-500-01 |
| Clear | 20-560-01 |
| Clear | 20-102-01 |
| Clear | 20-152-01 |
| Clear | 20-155-01 |
| Clear | 20-161-01 |
| Clear | 20-166-01 |
| Clear | 20-167-01 |
| Clear | 20-170-01 |
| Clear | 20-171-01 |
| Clear | 20-180-01 |
| Clear | 20-200-01 |
| Clear | 20-201-01 |
| Clear / Without Black Vinyl Mask | 20-206-01 |
| Clear / With Black Vinyl Mask | 20-206v-01 |
| Clear | 20-207-01 |
| Clear | 20-212-01 |
| Clear | 20-221-01 |
| Clear | 20-252-01 |
| Clear | 20-271-01 |
| Clear | 20-282-01 |
| Clear | 20-290-01 |
| Clear | 20-403-01 |
| Clear | 20-408-01 |
| Clear | 20-420-01 |
| Clear | 20-421-01 |
| Clear | 20-422-01 |
| Clear | 20-426-01 |
| Clear | 20-443-01 |
| Clear | 20-454-01 |
| Clear | 20-460-01 |
| Clear | 20-463-01 |
| Clear | 20-465-01 |
| Clear | 20-523-01 |
| Clear | 20-531-01 |
| Clear | 20-535-01 |
| Clear | 20-576-01 |
| Clear | 20-738-01 |
| Clear | 20-859-01 |
| Clear | 20-930-01 |
| Clear | 20-931-01 |
| Clear | 20-542-01 |
| Green | 20-262-13 |
| Green | 20-251-13 |
| Green | 20-252-13 |
| Green | 20-221-13 |
| Red | 20-106-09 |
| Red | 20-404-09 |
| Red | 20-423-09 |
| Purple | 20-402-11 |
| Purple | 20-461-11 |
| Yellow | 20-106-06 |
| Yellow | 20-110-06 |
| Yellow | 20-111-06 |