FMF
FMF

Powercore 2 Silencer - 2-Stroke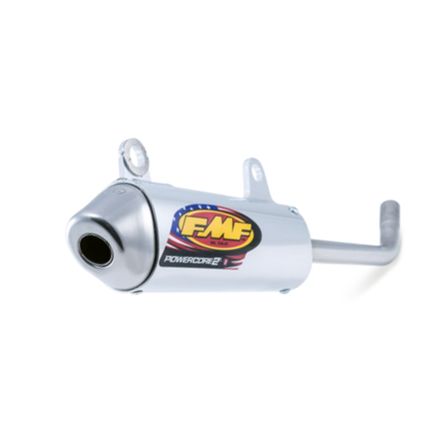 FMF Powercore 2 Silencer - 2-Stroke
---
10% Off - Save up to $25.00
---
5 Star
28
4 Star
5
3 Star
0
2 Star
0
1 Star
0
Write a Review
Write your review and you'll automatically be entered in our monthly drawing. Include an image or video to DOUBLE your chances to win!
Write Your Review
2 months 9 days ago
Brunswick, ME 04011, USA
Powercore
Best one out there by far.
Over 5 months ago
Indiana, USA
Good mid range boost
Boosted my mid range power but left me wanting more down low.
all in all a great product and i definitely recommend.
2003 Kawasaki KX 125
I bought this silencer for my 03 kx 125 and although i haven't ridden it that much so far it has given my bike a little more pep than stock. I would recommend to anyone looking to upgrade their exhaust. Next step is an FMF Fatty Gold Series!
Over 8 months ago
Morgantown, WV, USA
Great silencer
I put this silencer on a 98 200 blaster. It sounds good and increased performance a tad. Most definitely recommend this product to anyone with a 2 stroke quad.
1 year 3 months ago
New Mexico
FMF powercore2 silencer on a KTM 85SX
Bolted right on, didn't come with new rubbers or bolts so save the old ones. My son said he could feel a little more Getty up but kept saying it sounded "BAD A" great for the price And would buy again
1 year 7 months ago
New Hampshire, USA
Reliable, timeless, combination
I've ran this coupled with a fatty on every 2 stroke I've owned since 1994. They work and are rugged too. I've bent them, bent them back and ran them. Great performance over the entire powerband. Would recommend this too any MX or enduro rider.
1 year 7 months ago
Cartersville ga
Really woke up the ktm 50!!!
Killer exhaust for a killer price!! It sounds awesome and def woke the bike up!!!
1 year 8 months ago
Parker, CO, USA
Much quieter now
put this on an 01 kx85 that had a pro circut shorty on it.. this one is way quieter and a bit longer to keep the exhaust oil "splatters" off of the inside of the number plate.. works great so far.
Killer set up
Bought for a PW50 and it really turned the bike up. Sounds like a dirt bike now... Best purchase for the mini so far.
Best Pipe out there
Got this pipe today, i took about 15 minutes to put on. No need for Re-jetting just slip on. my yz125 sounds so amazing. adds noticeable power increase oh and its easier to do wheelies.. hhehehhe
Over 3 years ago
Salt Lake City, UT, USA
First Time Purchase
Product came as shown and shipping was out faster than I expected. Had a moment of panic until I realized the silencer support tab was missing and we had to weld a new on to the frame. Very pleased with the purchase and service.
FMF IS AWESOME.
I Really enjoy the clean and mean sound of FMF. the setup is a FMF Fatty header with a FMF powercore2 silencer on a trx250r stroker. It's quick.
Over 4 years ago
Michigan, USA
Fmf powercore 2
Bought this for my 1994 Honda cr 250 after having one on my kx 250. It looks and sounds great, shipping was very quick, and installation was easy
WOW!
This exhaust silencer is about the best you can get.She sounds mean! It makes it even better when you hook it up with a fatty pipe.Definetly felt the difference in power and powerband.Very durable.The fatty and powercore 2 have been on my 280cc 2002 Yamaha blaster for 2 years! Well worth it!
Over 5 years ago
Atlanta, GA
Works as it should
This silencer really works good i was going to get a shorty but I decided to go with the powercore2 because I do more woods riding. I love it because it made my power band on my KTM more snappy with out being to much for the woods.
Used as a replacement for stock
The stock exhaust on my sons PW50 was damaged and I replaced it with this aftermarket silencer. No power gains since I only have the silencer. I do plan on getting the fatty pipe but this silencer fits well with the stock header.
Over 5 years ago
Milton FL
Power Improved
This really smoothed out the power and response on a 1997 RM250, and it also added a little more power...HIGHLY RECOMMEND
Over 5 years ago
San Antonio, TX
2002 CR250 Excellent Fit
Great aftermarket silencer. Sounds beautiful! I installed with with a new Fatty pipe and got a great power increase across the power band. The rear-most attaching bracket rubs a little on the rear fender, but other than that, absolutely perfect fit.
Over 5 years ago
San Luis Obispo , CA
Braaaap
I Installed the Power core 2 on my Rm 125 because I already had a fmf pipe and I needed to match. I got the regular one because I felt like the shorty's were too loud and I was concerned about loosing top. Not expecting much of a difference I was actually pleasantly surprised when I noticed a small gain in the Mid / Bottom and no noticeable loss of top / overrev. The power core 2 is about an inch shorter overall then the stock muffler, just FYI, and has a sweet exhaust note. Not to Raspy and loud. BRRAAAAPP.
Over 5 years ago
Weaver AL.
Big differance in bottom in throttle respones
simple bolt on mod. 10 min. an your ready to ride
bois
Q: Does it have a spark rester thing?
robert
1 day 14 hours ago
A: This does not have a spark arrester.
Blaster45
Q: Will this fit my 1990 Yamaha Blaster with the brackets in the picture?
EnduroPik
Over 5 months ago
Location: Indiana, USA
A: The picture shown is just a generic picture of the pipe. If you order it for your make and model it should fit fine.
kx10005
Q: My bikes exhaust runs out the left side. will it still fit my bike?
Ashley
Q: Need help trying to buy my boyfriend a silencer for his bike as hes mentioned wanting one for a while now ... Help?
I know its a 93 i believe its a two stroke 250 and thats all i have to go on right know. Its very loud as it is right know and he wants it to be a bit quiter what should i buy. Not to worried about price more worried about buying what fit and works for his bike. Help?
MotoSportExpert
1 year 2 months ago
A: We would need to determine what bike he has. Please give us a call at 888-676-8853 and we would be happy to help you out with your order.
Jimmy
Q: Should I replace the rubber grommet between the pipe and stinger?
MotoSportExpert
1 year 4 months ago
A: If it is not damaged and is in good shape there is no need to replace it.
Tyler
Q: Which is best for trails i ride trails mostly but motocross sometimes. And do they sound the same or do they different sounds if you can answer that.?
The powercore 2 or shorty.
MotoSportExpert
1 year 4 months ago
A: For tighter, low speeds the shortly is going to give you more bottom end power. The sound is going to be close to the same. Feel free to give us a call at 888-676-8853 and we would be happy to help you out with your order.
Tyler
Q: Would the powercore 2 or shorty be louder on a yz 125.?
MotoSportExpert
1 year 4 months ago
A: The shortly would generally be louder however you will likely not be able to tell the difference by ear.
Isaac23
Q: Does it come with the bolts to bolt it to the frame?
MotoSportExpert
1 year 5 months ago
A: No, FMF Powercore 2 Silencer does not come with mounting hardware. OEM hardware can be found in our OEM section here:

http://www.motosport.com/atv/oem-parts/yamaha/2006/blaster/exhaust
Asclepius
Q: Does the silencer ship already packed and ready for use? Or do I have to open and pack and re seal?
MotoSportExpert
1 year 7 months ago
A: The silencers come packed and ready to go.
Stumpy
1 year 3 months ago
Location: New Mexico
A: Bolt it on and ride. Does not come with hardware so save old bolts and gromets Little bit louder than stock
Asclepius
Location: Gresham, OR, USA
Q: Do you need a spark arrestor?
MotoSportExpert
1 year 7 months ago
A: Spark arrester laws vary from State to State. OHV operators should consult their State's policy.
See all bikes that this part fits...
| Product Variant | Manufacturer Part # |
| --- | --- |
| Big Bore | N/A |
| Standard | N/A |
| FMF Powercore 2 Silencer - 2-Stroke | 020263 |
| FMF Powercore 2 Silencer - 2-Stroke | 020264 |
| FMF Powercore 2 Silencer - 2-Stroke | 020212 |
| FMF Powercore 2 Silencer - 2-Stroke | 021009 |
| FMF Powercore 2 Silencer - 2-Stroke | 020205 |
| FMF Powercore 2 Silencer - 2-Stroke | 020214 |
| FMF Powercore 2 Silencer - 2-Stroke | 020208 |
| FMF Powercore 2 Silencer - 2-Stroke | 021014 |
| FMF Powercore 2 Silencer - 2-Stroke | 020210 |
| FMF Powercore 2 Silencer - 2-Stroke | 020203 |
| FMF Powercore 2 Silencer - 2-Stroke | 023038 |
| FMF Powercore 2 Silencer - 2-Stroke | 025077 |
| FMF Powercore 2 Silencer - 2-Stroke | 025122 |
| FMF Powercore 2 Silencer - 2-Stroke | 025134 |
| FMF Powercore 2 Silencer - 2-Stroke | 020189 |
| FMF Powercore 2 Silencer - 2-Stroke | 025025 |
| FMF Powercore 2 Silencer - 2-Stroke | 025102 |
| FMF Powercore 2 Silencer - 2-Stroke | 025008 |
| FMF Powercore 2 Silencer - 2-Stroke | 025104 |
| FMF Powercore 2 Silencer - 2-Stroke | 025064 |
| FMF Powercore 2 Silencer - 2-Stroke | 020238 |
| FMF Powercore 2 Silencer - 2-Stroke | 020240 |
| FMF Powercore 2 Silencer - 2-Stroke | 022018 |
| FMF Powercore 2 Silencer - 2-Stroke | 020233 |
| FMF Powercore 2 Silencer - 2-Stroke | 020236 |
| FMF Powercore 2 Silencer - 2-Stroke | 022023 |
| FMF Powercore 2 Silencer - 2-Stroke | 022037 |
| Standard | 020231 |
| FMF Powercore 2 Silencer - 2-Stroke | 024036 |
| FMF Powercore 2 Silencer - 2-Stroke | 024037 |
| FMF Powercore 2 Silencer - 2-Stroke | 023021 |
| FMF Powercore 2 Silencer - 2-Stroke | 020288 |
| FMF Powercore 2 Silencer - 2-Stroke | 020403 |
| FMF Powercore 2 Silencer - 2-Stroke | 020290 |
| FMF Powercore 2 Silencer - 2-Stroke | 023026 |
| Standard | 023009 |
| FMF Powercore 2 Silencer - 2-Stroke | 024009 |
| FMF Powercore 2 Silencer - 2-Stroke | 020269 |
| FMF Powercore 2 Silencer - 2-Stroke | 020265 |
| FMF Powercore 2 Silencer - 2-Stroke | 024014 |
| FMF Powercore 2 Silencer - 2-Stroke | 020259 |
| FMF Powercore 2 Silencer - 2-Stroke | 020185 |
| FMF Powercore 2 Silencer - 2-Stroke | 020186 |
| FMF Powercore 2 Silencer - 2-Stroke | 025053 |
| FMF Powercore 2 Silencer - 2-Stroke | 020204 |
| FMF Powercore 2 Silencer - 2-Stroke | 020207 |
| FMF Powercore 2 Silencer - 2-Stroke | 020211 |
| FMF Powercore 2 Silencer - 2-Stroke | 020232 |
| FMF Powercore 2 Silencer - 2-Stroke | 020235 |
| FMF Powercore 2 Silencer - 2-Stroke | 020262 |
| FMF Powercore 2 Silencer - 2-Stroke | 025012 |
| FMF Powercore 2 Silencer - 2-Stroke | 025147 |
| FMF Powercore 2 Silencer - 2-Stroke | 025160 |
| FMF Powercore 2 Silencer - 2-Stroke | 025164 |
| FMF Powercore 2 Silencer - 2-Stroke | 025180 |
| FMF Powercore 2 Silencer - 2-Stroke | 025186 |
| FMF Powercore 2 Silencer - 2-Stroke | 025199 |
| FMF Powercore 2 Silencer - 2-Stroke | 025162 |
| Shorty | N/A |
| FMF Powercore 2 Silencer - 2-Stroke | N/A |
| Shorty Big Bore | N/A |
| FMF Powercore 2 Silencer - 2-Stroke | N/A |