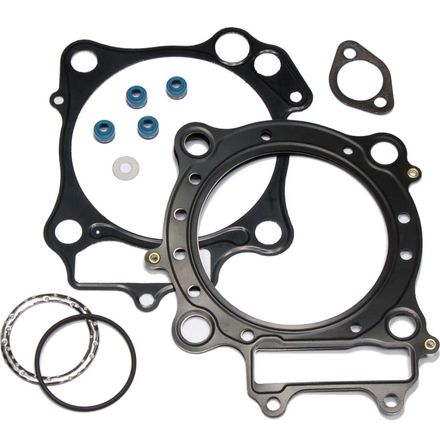 Cometic Top End Gasket Kit
---
5% Off - Save up to $4.00
---
5 Star
124
4 Star
21
3 Star
11
2 Star
11
1 Star
22
Write a Review
Write your review and you'll automatically be entered in our monthly drawing. Include an image or video to DOUBLE your chances to win!
Write Your Review
2 days 7 hours ago
Paragon, IN.
Super Kit
This gasket set came with my piston kit
Came with everything and works great
It came with everything I needed, no missing pieces and went in easily. Only been in for a few weeks so we will see how long it holds up. I was burning oil on my 2008 CRF250R and my mechanic said that this was what i needed. It stopped the issue. Great price to!
Top end gasket set
I bought this gasket set for my grand son's YZ 125, but the inside head o-ring was too big and would not fit in the ring groove. So I just wasted my money.
2001 KTM 65SX top end gasket kit
Not a complete set. Missing a o-ring
2 months 3 days ago
San Diego
Fit perfectly
bought for my 82 atc 250r and it runs like a champ with no leaks or nothing.
Missing 1 gasket
missing one of the powervalve gaskets.
3 months 3 days ago
Tucson
Quality gaskets
Gasket kit came with the pro x piston kit I got for my 2001 Cr125. Gaskets were high quality worked as should, fit was good.
KTM riders beware!!
Base gasket for a 2016 250sx is way different. All the other gaskets and o-rings fit.
3 months 22 days ago
New England
Great gasket kit
Motosport was great to deal with. Everything came together. Products fit great
Q: I have a 2002 banshee bored .040 over ( 65mm ) i was wondering if the stock gasket kit would work ( 64mm ) so only 1mm over stock, if not do you sell the .040 over top end gasket set? thanks in advance.
Thumbs
6 days 4 hours ago
A: You will be able to run that gasket. Most gasket kits can handle a piston from 64-66mm for your machine.
Q: Would it fit my XR250 year 2001?
David
Over 5 months ago
A: Yes it will.
Q: So this gasket set is metal base right? for 1999 yz125
David
Over 6 months ago
A: Yes. This will be to OEM specs.
Q: What is the Cometic part#?
Q: What thickness is the basket gasket in the kit for a 14 ktm300xc?
Q: What are the exact gaskets that come for a 1991 Suzuki DR350?
Q: Wich gaskets are included for a 2005 honda trx 400ex?
Q: I have a 92 kx80 redoing the top end what gaskets are in this kit
MotoSportExpert
1 year 9 months ago
A: The Cometic Top End Gasket Kit C7031 for your 1992 Kawasaki KX80 would include the head and base gasket, and two o-rings.
Q: Would it fit my bike
MotoSportExpert
1 year 10 months ago
A: Yes. Just be sure to correctly select the Year/Make/Model of your bike before ordering so we can be sure to send you the correct kit for your bike. Also, feel free to give us a call at 888-676-8853 and we would be happy to help you out with your order.
Q: I have a 98 yz125 will this gasket work with an athena cylinder?
MotoSportExpert
1 year 10 months ago
A: Yes if its a stock bore Athena Cylinder this Cometic Top End Gasket Kit will work great.
See all bikes that this part fits...
| Product Variant | Manufacturer Part # |
| --- | --- |
| Cometic Top End Gasket Kit | C7760 |
| Cometic Top End Gasket Kit | C7859 |
| Cometic Top End Gasket Kit | C3267-EST |
| Cometic Top End Gasket Kit | C3136-EST |
| Cometic Top End Gasket Kit | C3268-EST |
| Cometic Top End Gasket Kit | C7070 |
| Cometic Top End Gasket Kit | C7071 |
| Cometic Top End Gasket Kit | C7072 |
| Cometic Top End Gasket Kit | C7073 |
| Cometic Top End Gasket Kit | C3150-EST |
| Cometic Top End Gasket Kit | C7978-EST |
| Cometic Top End Gasket Kit | C7971 |
| Cometic Top End Gasket Kit | C3142-EST |
| Cometic Top End Gasket Kit | C7798 |
| Cometic Top End Gasket Kit | C7778 |
| Cometic Top End Gasket Kit | C7508 |
| Cometic Top End Gasket Kit | C7120 |
| Cometic Top End Gasket Kit | C7059 |
| Cometic Top End Gasket Kit | C7112 |
| Cometic Top End Gasket Kit | C7136 |
| Cometic Top End Gasket Kit | C7779 |
| Cometic Top End Gasket Kit | C7467 |
| Cometic Top End Gasket Kit | C3099 |
| Cometic Top End Gasket Kit | C7064 |
| Cometic Top End Gasket Kit | C7065 |
| Cometic Top End Gasket Kit | C7123 |
| Cometic Top End Gasket Kit | C7156 |
| Cometic Top End Gasket Kit | C7280 |
| Cometic Top End Gasket Kit | C7505 |
| Cometic Top End Gasket Kit | C7054 |
| Cometic Top End Gasket Kit | C7857 |
| Cometic Top End Gasket Kit | C3054-EST |
| Cometic Top End Gasket Kit | C3175-EST |
| Cometic Top End Gasket Kit | C3406-EST |
| Cometic Top End Gasket Kit | C3102 |
| Cometic Top End Gasket Kit | C3233-EST |
| Cometic Top End Gasket Kit | C7349 |
| Cometic Top End Gasket Kit | C7143 |
| Cometic Top End Gasket Kit | C3051-EST |
| Cometic Top End Gasket Kit | C3139-EST |
| Cometic Top End Gasket Kit | C7096 |
| Cometic Top End Gasket Kit | C3066-EST |
| Cometic Top End Gasket Kit | C7853 |
| Cometic Top End Gasket Kit | C7936 |
| Cometic Top End Gasket Kit | C3105 |
| Cometic Top End Gasket Kit | C7084 |
| Cometic Top End Gasket Kit | C7139 |
| Cometic Top End Gasket Kit | C7158 |
| Cometic Top End Gasket Kit | C7399 |
| Cometic Top End Gasket Kit | C7855 |
| Cometic Top End Gasket Kit | C7113 |
| Cometic Top End Gasket Kit | C7250 |
| Cometic Top End Gasket Kit | C7337 |
| Cometic Top End Gasket Kit | C7507 |
| Cometic Top End Gasket Kit | C7400 |
| Cometic Top End Gasket Kit | C7689 |
| Cometic Top End Gasket Kit | C7137 |
| Cometic Top End Gasket Kit | C7851 |
| Cometic Top End Gasket Kit | C3057 |
| Cometic Top End Gasket Kit | C7947 |
| Cometic Top End Gasket Kit | C7908-EST |
| Cometic Top End Gasket Kit | C3395-EST |
| Cometic Top End Gasket Kit | C3211 |
| Cometic Top End Gasket Kit | C3164-EST |
| Cometic Top End Gasket Kit | C3428-EST |
| Cometic Top End Gasket Kit | C7279 |
| Cometic Top End Gasket Kit | C3412-EST |
| Cometic Top End Gasket Kit | C3263-EST |
| Cometic Top End Gasket Kit | C7292 |
| Cometic Top End Gasket Kit | N/A |
| Cometic Top End Gasket Kit | C7944 |
| Cometic Top End Gasket Kit | C3416 |
| Cometic Top End Gasket Kit | C7094 |
| Cometic Top End Gasket Kit | C7093-EST |
| Cometic Top End Gasket Kit | C7678 |
| Cometic Top End Gasket Kit | C7757 |
| Cometic Top End Gasket Kit | C7181 |
| Cometic Top End Gasket Kit | C3085 |
| Cometic Top End Gasket Kit | C7115 |
| Cometic Top End Gasket Kit | C7394 |
| Cometic Top End Gasket Kit | C7191 |
| Cometic Top End Gasket Kit | C3089 |
| Cometic Top End Gasket Kit | C7015 |
| Cometic Top End Gasket Kit | C7016 |
| Cometic Top End Gasket Kit | C7116 |
| Cometic Top End Gasket Kit | C7020 |
| Cometic Top End Gasket Kit | C7003 |
| Cometic Top End Gasket Kit | C7126 |
| Cometic Top End Gasket Kit | C3187 |
| Cometic Top End Gasket Kit | C7185 |
| Cometic Top End Gasket Kit | C3288-EST |
| Cometic Top End Gasket Kit | C3047-EST |
| Cometic Top End Gasket Kit | C3270-EST |
| Cometic Top End Gasket Kit | C7688 |
| Cometic Top End Gasket Kit | C7044 |
| Cometic Top End Gasket Kit | C3201-EST |
| Cometic Top End Gasket Kit | C7392 |
| Cometic Top End Gasket Kit | C7762 |
| Cometic Top End Gasket Kit | C7921 |
| Cometic Top End Gasket Kit | C7203 |
| Cometic Top End Gasket Kit | C7241 |
| Cometic Top End Gasket Kit | C7393 |
| Cometic Top End Gasket Kit | C7040 |
| Cometic Top End Gasket Kit | C7764 |
| Cometic Top End Gasket Kit | C7861 |
| Cometic Top End Gasket Kit | C7269 |
| Cometic Top End Gasket Kit | C3096 |
| Cometic Top End Gasket Kit | C7041 |
| Cometic Top End Gasket Kit | C7100 |
| Cometic Top End Gasket Kit | C7135 |
| Cometic Top End Gasket Kit | C7155 |
| Cometic Top End Gasket Kit | C7047 |
| Cometic Top End Gasket Kit | C7154 |
| Cometic Top End Gasket Kit | C7501 |
| Cometic Top End Gasket Kit | C7682 |
| Cometic Top End Gasket Kit | C7030 |
| Cometic Top End Gasket Kit | C7031 |
| Cometic Top End Gasket Kit | C7391 |
| Cometic Top End Gasket Kit | C7011 |
| Cometic Top End Gasket Kit | C7012 |
| Cometic Top End Gasket Kit | C7013 |
| Cometic Top End Gasket Kit | C7018 |
| Cometic Top End Gasket Kit | C7019 |
| Cometic Top End Gasket Kit | C7027 |
| Cometic Top End Gasket Kit | C7028 |
| Cometic Top End Gasket Kit | C7029 |
| Cometic Top End Gasket Kit | C7032 |
| Cometic Top End Gasket Kit | C7034 |
| Cometic Top End Gasket Kit | C7035 |
| Cometic Top End Gasket Kit | C7036 |
| Cometic Top End Gasket Kit | C7037 |
| Cometic Top End Gasket Kit | C7038 |
| Cometic Top End Gasket Kit | C7039 |
| Cometic Top End Gasket Kit | C7042 |
| Cometic Top End Gasket Kit | C7043 |
| Cometic Top End Gasket Kit | C7045 |
| Cometic Top End Gasket Kit | C7046 |
| Cometic Top End Gasket Kit | C7049 |
| Cometic Top End Gasket Kit | C7050 |
| Cometic Top End Gasket Kit | C7052 |
| Cometic Top End Gasket Kit | C7053 |
| Cometic Top End Gasket Kit | C7055 |
| Cometic Top End Gasket Kit | C7056 |
| Cometic Top End Gasket Kit | C7057 |
| Cometic Top End Gasket Kit | C7058 |
| Cometic Top End Gasket Kit | C7060 |
| Cometic Top End Gasket Kit | C7061 |
| Cometic Top End Gasket Kit | C7062 |
| Cometic Top End Gasket Kit | C7068 |
| Cometic Top End Gasket Kit | C7076 |
| Cometic Top End Gasket Kit | C7080 |
| Cometic Top End Gasket Kit | C7081 |
| Cometic Top End Gasket Kit | C7082 |
| Cometic Top End Gasket Kit | C7083 |
| Cometic Top End Gasket Kit | C7086 |
| Cometic Top End Gasket Kit | C7087 |
| Cometic Top End Gasket Kit | C7088 |
| Cometic Top End Gasket Kit | C7089 |
| Cometic Top End Gasket Kit | C7090 |
| Cometic Top End Gasket Kit | C7091 |
| Cometic Top End Gasket Kit | C7092 |
| Cometic Top End Gasket Kit | C7097 |
| Cometic Top End Gasket Kit | C7098 |
| Cometic Top End Gasket Kit | C7099 |
| Cometic Top End Gasket Kit | C7102 |
| Cometic Top End Gasket Kit | C7103 |
| Cometic Top End Gasket Kit | C7105 |
| Cometic Top End Gasket Kit | C7106 |
| Cometic Top End Gasket Kit | C7107 |
| Cometic Top End Gasket Kit | C7108 |
| Cometic Top End Gasket Kit | C7110 |
| Cometic Top End Gasket Kit | C7111 |
| Cometic Top End Gasket Kit | C7117 |
| Cometic Top End Gasket Kit | C7118 |
| Cometic Top End Gasket Kit | C7119 |
| Cometic Top End Gasket Kit | C7131 |
| Cometic Top End Gasket Kit | C7132 |
| Cometic Top End Gasket Kit | C7133 |
| Cometic Top End Gasket Kit | C7134 |
| Cometic Top End Gasket Kit | C7138 |
| Cometic Top End Gasket Kit | C7142 |
| Cometic Top End Gasket Kit | C7145 |
| Cometic Top End Gasket Kit | C7147 |
| Cometic Top End Gasket Kit | C7827 |
| Cometic Top End Gasket Kit | C3216 |
| Cometic Top End Gasket Kit | C7213 |
| Cometic Top End Gasket Kit | C7214 |
| Cometic Top End Gasket Kit | C7230 |
| Cometic Top End Gasket Kit | C7231 |
| Cometic Top End Gasket Kit | C7234 |
| Cometic Top End Gasket Kit | C7235 |
| Cometic Top End Gasket Kit | C7236 |
| Cometic Top End Gasket Kit | C7237 |
| Cometic Top End Gasket Kit | C7238 |
| Cometic Top End Gasket Kit | C7242 |
| Cometic Top End Gasket Kit | C7251 |
| Cometic Top End Gasket Kit | C7257 |
| Cometic Top End Gasket Kit | C7258 |
| Cometic Top End Gasket Kit | C7259 |
| Cometic Top End Gasket Kit | C7266 |
| Cometic Top End Gasket Kit | C7268 |
| Cometic Top End Gasket Kit | C7285 |
| Cometic Top End Gasket Kit | C7298 |
| Cometic Top End Gasket Kit | C7300 |
| Cometic Top End Gasket Kit | C7302 |
| Cometic Top End Gasket Kit | C7333 |
| Cometic Top End Gasket Kit | C7384 |
| Cometic Top End Gasket Kit | C7416 |
| Cometic Top End Gasket Kit | C7423 |
| Cometic Top End Gasket Kit | C7456 |
| Cometic Top End Gasket Kit | C7681 |
| Cometic Top End Gasket Kit | C7690 |
| Cometic Top End Gasket Kit | C7691 |
| Cometic Top End Gasket Kit | C7693 |
| Cometic Top End Gasket Kit | C7726 |
| Cometic Top End Gasket Kit | C7816 |
| Cometic Top End Gasket Kit | C7386 |
| Cometic Top End Gasket Kit | C7939 |
| Cometic Top End Gasket Kit | C7835 |
| Cometic Top End Gasket Kit | C7942 |
| Cometic Top End Gasket Kit | C7943 |
| Cometic Top End Gasket Kit | C3222 |
| Cometic Top End Gasket Kit | C7974 |
| Cometic Top End Gasket Kit | C7989 |
| Cometic Top End Gasket Kit | C7000 |
| Cometic Top End Gasket Kit | C7001 |
| Cometic Top End Gasket Kit | C7002 |
| Cometic Top End Gasket Kit | C7005 |
| Cometic Top End Gasket Kit | C7006 |
| Cometic Top End Gasket Kit | C7007 |
| Cometic Top End Gasket Kit | C7008 |
| Cometic Top End Gasket Kit | C7009 |
| Cometic Top End Gasket Kit | C7010 |
| Cometic Top End Gasket Kit | C7021 |
| Cometic Top End Gasket Kit | C3519-EST |
| Cometic Top End Gasket Kit | C3511-EST |
| Cometic Top End Gasket Kit | C3241-EST |
| Cometic Top End Gasket Kit | C3542 |
| Cometic Top End Gasket Kit | C3541 |
| Cometic Top End Gasket Kit | C3549-EST |
| Cometic Top End Gasket Kit | C3540-EST |
| Cometic Top End Gasket Kit | C3510 |