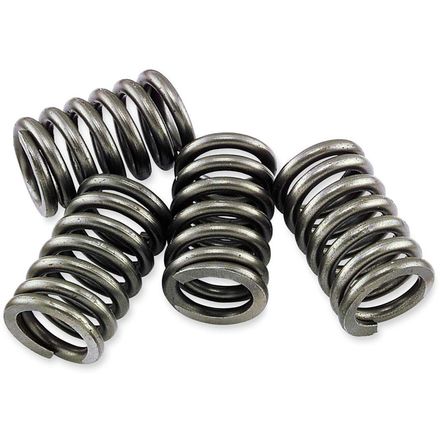 ---
5% Off - Save up to $2.50
---
5 Star
5
4 Star
0
3 Star
1
2 Star
0
1 Star
0
Write a Review
Write your review and you'll automatically be entered in our monthly drawing. Include an image or video to DOUBLE your chances to win!
Write Your Review
1 month 25 days ago
Monroe Michigan
Heavy duty
These are good clutch springs. No issues.
1 year 9 months ago
Cedar Rapids, IA, USA
Good replacement springs
When rebuilding the clutch in my 2007 Honda Rebel, I replaced the stock springs with these. They have worked great, and fit perfectly. Great value for price. I don't think they feel much stiffer than the stock springs, but you can tell they are quality springs.
1 year 11 months ago
Gilbert, AZ, USA
Just right
I used these springs with a different clutch kit but they fit perfect and the new clutch feels smooth as silk now
Over 5 years ago
Madison, WI
EBC Clutch Springs
Proper part, great fit and makes your clutch like brand new.
Not bad, but cant tell a difference
I was doing some clutch seal work last season and I figured I would toss these in because I saw they got great review. I really can't tell any difference from my stock springs, but that dosent mean they are not helping. I gave them a 3/5 for noticable difference, but they are probably a 5/5. Do some research, but these are some of the better springs I read to put in.
Over 6 years ago
colorado
Well worth the money! Made the clutch work so much better
Q: Clutch spring dimension - guidance
I need a 4 sets of clutch spring with the following dimension: Total length : 35mm Inside coil diameter : 14 mm Wire diameter : 2,6 mm Coil turns : 7 approx. Can you advice me for which motorcycle I should order from you? Any nearest size are welcome. Thank you.
MotoSportExpert
Over 3 years ago
A: All items are profiled by machine on our website.
Just be sure to correctly select the Year/Make/Model of your bike before ordering so we can be sure to send you the correct products for your bike. Also, feel free to give us a call at 888-676-8853 and we would be happy to help you out with your order.
Q: How many springs in this set? is it 4 or 8?
i have a 1992 Suzuki vx800 and i want to change the clutch springs. i need 8 of them, my question is, this ebc clutch springs set comes with 4 or 8 springs? the way i see it i comes only with 4 springs, that means 1 quantity when ordering, so in my case since i need 8 springs i have to order 2 quantities, right? please respond asap, i need to order this part. thank you.
MotoSportExpert
Over 4 years ago
A: The picture is for reference only. These are sold in complete kits for your bike. You will only need to order quantity 1.
Q: Hello. I'm about to buy EBC clutch springs for a 1000 DL Vstrom. Is it a bundle of the 5 springs or just 1 item ? Thanks
MotoSportExpert
Over 4 years ago
A: This will be a complete set of springs. They are not sold individually.
See all bikes that this part fits...
| Product Variant | Manufacturer Part # |
| --- | --- |
| EBC Clutch Springs | CSK10 |
| EBC Clutch Springs | CSK101 |
| EBC Clutch Springs | CSK102 |
| EBC Clutch Springs | CSK109 |
| EBC Clutch Springs | CSK11 |
| EBC Clutch Springs | CSK110 |
| EBC Clutch Springs | CSK111 |
| EBC Clutch Springs | CSK112 |
| EBC Clutch Springs | CSK114 |
| EBC Clutch Springs | CSK115 |
| EBC Clutch Springs | CSK117 |
| EBC Clutch Springs | CSK119 |
| EBC Clutch Springs | CSK12 |
| EBC Clutch Springs | CSK120 |
| EBC Clutch Springs | CSK122 |
| EBC Clutch Springs | CSK124 |
| EBC Clutch Springs | CSK126 |
| EBC Clutch Springs | CSK128 |
| EBC Clutch Springs | CSK133 |
| EBC Clutch Springs | CSK139 |
| EBC Clutch Springs | CSK14 |
| EBC Clutch Springs | CSK142 |
| EBC Clutch Springs | CSK15 |
| EBC Clutch Springs | CSK156 |
| EBC Clutch Springs | CSK16 |
| EBC Clutch Springs | CSK162 |
| EBC Clutch Springs | CSK17 |
| EBC Clutch Springs | CSK2 |
| EBC Clutch Springs | CSK23 |
| EBC Clutch Springs | CSK24 |
| EBC Clutch Springs | CSK26 |
| EBC Clutch Springs | CSK28 |
| EBC Clutch Springs | CSK29 |
| EBC Clutch Springs | CSK3 |
| EBC Clutch Springs | CSK33 |
| EBC Clutch Springs | CSK34 |
| EBC Clutch Springs | CSK36 |
| EBC Clutch Springs | CSK37 |
| EBC Clutch Springs | CSK4 |
| EBC Clutch Springs | CSK41 |
| EBC Clutch Springs | CSK42 |
| EBC Clutch Springs | CSK43 |
| EBC Clutch Springs | CSK45 |
| EBC Clutch Springs | CSK46 |
| EBC Clutch Springs | CSK48 |
| EBC Clutch Springs | CSK49 |
| EBC Clutch Springs | CSK56 |
| EBC Clutch Springs | CSK6 |
| EBC Clutch Springs | CSK61 |
| EBC Clutch Springs | CSK66 |
| EBC Clutch Springs | CSK67 |
| EBC Clutch Springs | CSK69 |
| EBC Clutch Springs | CSK7 |
| EBC Clutch Springs | CSK70 |
| EBC Clutch Springs | CSK71 |
| EBC Clutch Springs | CSK72 |
| EBC Clutch Springs | CSK75 |
| EBC Clutch Springs | CSK78 |
| EBC Clutch Springs | CSK81 |
| EBC Clutch Springs | CSK88 |
| EBC Clutch Springs | CSK9 |
| EBC Clutch Springs | CSK902 |
| EBC Clutch Springs | CSK903 |
| EBC Clutch Springs | CSK905 |
| EBC Clutch Springs | CSK92 |
| EBC Clutch Springs | CSK96 |
| EBC Clutch Springs | CSK31 |
| EBC Clutch Springs | CSK68 |
| EBC Clutch Springs | CSK90 |
| EBC Clutch Springs | CSK906 |
| EBC Clutch Springs | CSK91 |
| EBC Clutch Springs | CSK183 |
| EBC Clutch Springs | CSK196 |
| EBC Clutch Springs | CSK202 |
| EBC Clutch Springs | CSK203 |
| EBC Clutch Springs | CSK204 |
| EBC Clutch Springs | CSK158 |
| EBC Clutch Springs | CSK161 |
| EBC Clutch Springs | CSK218 |
| EBC Clutch Springs | CSK219 |
| EBC Clutch Springs | CSK223 |
| EBC Clutch Springs | CSK184 |