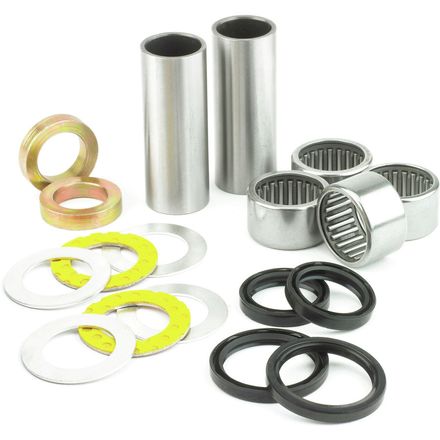 All Balls Swingarm Bearing Kit
---
10% Off - Save up to $7.63
---
5 Star
21
4 Star
8
3 Star
5
2 Star
1
1 Star
0
Write a Review
Write your review and you'll automatically be entered in our monthly drawing. Include an image or video to DOUBLE your chances to win!
Write Your Review
3 days 1 hour ago
Augusta,ga
2015 honda crf 250r
Parts fit 2015 honda crf 250r.
Good product, motorsport with the smooth and fast shipping as usual. Installed this kit on a 03' Rm250. Just noticed when putting bike on the stand the swing arm bearing has play in it like its bad already. Around 20 hrs of ride time since replacing and may need to throw another set of new bearings in the swing arm already. Makes it hard to dial in suspension with a bad bearing somewhere smh. Good product but didn't last such as oem.
1 month 26 days ago
Fort Worth Texas
All balls swingarm bearings
All the parts you need to get the job done
2 months 26 days ago
Houston, TX
2006 KX65
Great product. Fit perfect. A small trick is to put the bearings in the freezer for 15 minutes before installing them.
Over 12 months ago
Ohio, USA
The dust caps suck.
Whats the good reason for the seal to have a built in washer thats collared down so it wont fit if there are any irregularities in the houseing? Make it out of rubber with a sting seal and put washers on either side... Same result but they will actually install right in almost any circumstance.... If you use this idea i claim all royalties btw. Thanks. P.s. if u want me to use your stickers on my quad send me good parts. U missed out on a lot of free advertisement.
1 year 1 month ago
Canton
Motorsport products are always top quality and this product matches everything I've gotten form motorsport
Perfect fit!
Bought this kit for my 90' KX125 and it was a perfect fitment with no issues
Appear to be fine
Bought in case the bearings in a used swing arm were not good. But the swing arm is low mileage and the used bearigs were fine. So I kept these as back up. These new ones apear to be fine and are as advertised. I really appreciate that they were available for my old bike.
1 year 8 months ago
King, NC
Bearings NEED GREASE!!!
Bought this Kit for a 2004 Honda TRX 400ex. The kit did contain everything I needed, but be careful, I have found that some All Balls bearings are either not greased at the factory, or are only partially greased. For this kit I simply added grease and worked it into the needle bearings before installing them. I found that it is extremely difficult to replace swingers bearings in this atv. I recommend just taking it to an atv shop, it will save you loads of time. Also for the All Balls wheel bearing kits, remove one side of the bearing cover (the plastic side), and add as much grease as you can fit into it. I have found that some off All Balls wheel bearings are only greased on one side at the factory, so that they wear out faster and you have to buy more. Just add grease!!
Q: Bush size?
"What I have now is metric and measures 12x18x48. The factory discontinued the item. Thank you." seen this answer.....looking for steel bush that size. Are they available individually or in one of the kits? Mike
Q: I have a 1994 Kx250. Does this kit include what the oem diagram calls the swing arm sleeve L=58??
Q: Can you tell me what the dimensions are on the steel bushings?
What I have now is metric and measures 12x18x48. The factory discontinued the item. Thank you.
Q: My 1980 xt250 has plastic or composite swing arm bushings stock. Does this kit convert it to bearings or will it have plastic bushings again?
MotoSportExpert
2 years 11 months ago
A: We're sorry, this product does not fit the 1980 Yamaha XT250.
Q: What size pivot bolt will fit this kit i have a 1992 rm125, and just bought a replacement bolt but its a different size so need to know if kit willfit
MotoSportExpert
Over 3 years ago
A: The All Balls Bearing Kits are built to OEM specs to work with other OEM components. The bolt can be found in the OEM section here:
http://www.motosport.com/dirtbike/oem-parts/suzuki/1992/rm125/rear-swinging-arm-%28model-n%29

Also, feel free to give us a call at 888-676-8853 and we would be happy to help you out with your order.
* All products sold on Motosport.com are for US models.
Q: Will this fit on the back of my quad
MotoSportExpert
Over 3 years ago
A: Yes this will fit the swingarm on your 2003 Suzuki LTZ400. Feel free to give us a call at 888-676-8853 and we would be happy to help you out with your order.
Q: Will this work with a lonestar swingarm having a hard time finding new hardware even look at lonestar and they have nothing
MotoSportRyanT
Over 4 years ago
A: If the Lonestar Swingarm uses the same bearings and collars as the OEM swingarm this kit would work. I cannot find anything that confirms this is the case and I would need to know what specific ATV the swingarm is on to find that information out. I would say your best bet may be contacting Lonestar directly to see if they sell a replacement bearing kit for their swingarms. http://www.lsracing.com/contact-lonestar-racing.php
Q: Is it right for my CRF150r?
My bearings blew and i too everything out of the hub. Is this what i need to fix it or do i need the other ALL BALLS REAR BEARING KIT?
MotosportStaff
Over 5 years ago
A: You would need a rear wheel bearing kit. This is for the swingarm where it pivots near the frame.
SanFranciscoCRF450R
Over 5 years ago
A: Your question says "hub", so this leads me to believe you need wheel bearings and not swingarm bearings.
98YZ400F
Over 5 years ago
A: It sounds like you just need wheel bearings
Q: Install All Balls Swingarm Bearing Kit
Hello! I have recently purchased an 85 BigRed with no bearings currently in the Swingarm - I am curious as to how to install this kit?! Any help would be greatly appreciated!! Thanks, Billy J Nova Scotia, Canada
MotosportStaff
Over 5 years ago
A: Billy,

First thing we would suggest is to check out the OEM parts diagram to make sure you aren't missing any other parts. Installation is pretty straightforward with pressing in the bearings/collars in the correct order. Make sure everything is greased and cleaned upon installing. Use the diagram as reference here:

http://www.motosport.com/dirtbike/oem-parts/HONDA/1985/ATC250ES-BIG-RED/SWINGARM-%2B-PROPELLER-SHAFT-85?mmy_source=oem
See all bikes that this part fits...
| Product Variant | Manufacturer Part # |
| --- | --- |
| All Balls Swingarm Bearing Kit | 28-1001 |
| All Balls Swingarm Bearing Kit | 28-1002 |
| All Balls Swingarm Bearing Kit | 28-1008 |
| All Balls Swingarm Bearing Kit | 28-1009 |
| All Balls Swingarm Bearing Kit | 28-1011 |
| All Balls Swingarm Bearing Kit | 28-1012 |
| All Balls Swingarm Bearing Kit | 28-1013 |
| All Balls Swingarm Bearing Kit | 28-1014 |
| All Balls Swingarm Bearing Kit | 28-1016 |
| All Balls Swingarm Bearing Kit | 28-1017 |
| All Balls Swingarm Bearing Kit | 28-1018 |
| All Balls Swingarm Bearing Kit | 28-1019 |
| All Balls Swingarm Bearing Kit | 28-1020 |
| All Balls Swingarm Bearing Kit | 28-1021 |
| All Balls Swingarm Bearing Kit | 28-1023 |
| All Balls Swingarm Bearing Kit | 28-1027 |
| All Balls Swingarm Bearing Kit | 28-1028 |
| All Balls Swingarm Bearing Kit | 28-1029 |
| All Balls Swingarm Bearing Kit | 28-1030 |
| All Balls Swingarm Bearing Kit | 28-1037 |
| All Balls Swingarm Bearing Kit | 28-1039 |
| All Balls Swingarm Bearing Kit | 28-1040 |
| All Balls Swingarm Bearing Kit | 28-1041 |
| All Balls Swingarm Bearing Kit | 28-1042 |
| All Balls Swingarm Bearing Kit | 28-1043 |
| All Balls Swingarm Bearing Kit | 28-1044 |
| All Balls Swingarm Bearing Kit | 28-1045 |
| All Balls Swingarm Bearing Kit | 28-1047 |
| All Balls Swingarm Bearing Kit | 28-1051 |
| All Balls Swingarm Bearing Kit | 28-1053 |
| All Balls Swingarm Bearing Kit | 28-1056 |
| All Balls Swingarm Bearing Kit | 28-1059 |
| All Balls Swingarm Bearing Kit | 28-1061 |
| All Balls Swingarm Bearing Kit | 28-1062 |
| All Balls Swingarm Bearing Kit | 28-1063 |
| All Balls Swingarm Bearing Kit | 28-1064 |
| All Balls Swingarm Bearing Kit | 28-1065 |
| All Balls Swingarm Bearing Kit | 28-1066 |
| All Balls Swingarm Bearing Kit | 28-1067 |
| All Balls Swingarm Bearing Kit | 28-1070 |
| All Balls Swingarm Bearing Kit | 28-1071 |
| All Balls Swingarm Bearing Kit | 28-1072 |
| All Balls Swingarm Bearing Kit | 28-1073 |
| All Balls Swingarm Bearing Kit | 28-1075 |
| All Balls Swingarm Bearing Kit | 28-1076 |
| All Balls Swingarm Bearing Kit | 28-1077 |
| All Balls Swingarm Bearing Kit | 28-1078 |
| All Balls Swingarm Bearing Kit | 28-1079 |
| All Balls Swingarm Bearing Kit | 28-1080 |
| All Balls Swingarm Bearing Kit | 28-1082 |
| All Balls Swingarm Bearing Kit | 28-1087 |
| All Balls Swingarm Bearing Kit | 28-1088 |
| All Balls Swingarm Bearing Kit | 28-1089 |
| All Balls Swingarm Bearing Kit | 28-1090 |
| All Balls Swingarm Bearing Kit | 28-1091 |
| All Balls Swingarm Bearing Kit | 28-1092 |
| All Balls Swingarm Bearing Kit | 28-1094 |
| All Balls Swingarm Bearing Kit | 28-1096 |
| All Balls Swingarm Bearing Kit | 28-1097 |
| All Balls Swingarm Bearing Kit | 28-1098 |
| All Balls Swingarm Bearing Kit | 28-1099 |
| All Balls Swingarm Bearing Kit | 28-1108 |
| All Balls Swingarm Bearing Kit | 28-1114 |
| All Balls Swingarm Bearing Kit | 28-1115 |
| All Balls Swingarm Bearing Kit | 28-1122 |
| All Balls Swingarm Bearing Kit | 28-1123 |
| All Balls Swingarm Bearing Kit | 28-1124 |
| All Balls Swingarm Bearing Kit | 28-1125 |
| All Balls Swingarm Bearing Kit | 28-1127 |
| All Balls Swingarm Bearing Kit | 28-1128 |
| All Balls Swingarm Bearing Kit | 28-1142 |
| All Balls Swingarm Bearing Kit | 28-1156 |
| All Balls Swingarm Bearing Kit | 28-1158 |
| All Balls Swingarm Bearing Kit | 28-1159 |
| All Balls Swingarm Bearing Kit | 28-1160 |
| All Balls Swingarm Bearing Kit | 28-1161 |
| All Balls Swingarm Bearing Kit | 28-1163 |
| All Balls Swingarm Bearing Kit | 28-1168 |
| All Balls Swingarm Bearing Kit | 28-1172 |
| All Balls Swingarm Bearing Kit | 28-1186 |
| All Balls Swingarm Bearing Kit | 28-1192 |
| All Balls Swingarm Bearing Kit | 28-1193 |
| All Balls Swingarm Bearing Kit | 28-1200 |
| All Balls Swingarm Bearing Kit | 28-1201 |
| All Balls Swingarm Bearing Kit | 28-1202 |
| All Balls Swingarm Bearing Kit | 28-1203 |
| All Balls Swingarm Bearing Kit | 22-1022 |
| All Balls Swingarm Bearing Kit | 25-1626 |
| All Balls Swingarm Bearing Kit | 28-0001 |
| All Balls Swingarm Bearing Kit | 28-0002 |
| All Balls Swingarm Bearing Kit | 28-0004 |
| All Balls Swingarm Bearing Kit | 28-1058 |
| All Balls Swingarm Bearing Kit | 28-1171 |
| All Balls Swingarm Bearing Kit | 28-1174 |
| All Balls Swingarm Bearing Kit | 28-1175 |
| All Balls Swingarm Bearing Kit | 28-1176 |
| All Balls Swingarm Bearing Kit | 28-1181 |
| All Balls Swingarm Bearing Kit | 28-1206 |
| All Balls Swingarm Bearing Kit | 28-1005 |
| All Balls Swingarm Bearing Kit | 28-1007 |
| All Balls Swingarm Bearing Kit | 28-1010 |
| All Balls Swingarm Bearing Kit | 28-1022 |
| All Balls Swingarm Bearing Kit | 28-1024 |
| All Balls Swingarm Bearing Kit | 28-1025 |
| All Balls Swingarm Bearing Kit | 28-1026 |
| All Balls Swingarm Bearing Kit | 28-1031 |
| All Balls Swingarm Bearing Kit | 28-1032 |
| All Balls Swingarm Bearing Kit | 28-1035 |
| All Balls Swingarm Bearing Kit | 28-1049 |
| All Balls Swingarm Bearing Kit | 28-1054 |
| All Balls Swingarm Bearing Kit | 28-1060 |
| All Balls Swingarm Bearing Kit | 28-1069 |
| All Balls Swingarm Bearing Kit | 28-1081 |
| All Balls Swingarm Bearing Kit | 28-1084 |
| All Balls Swingarm Bearing Kit | 28-1085 |
| All Balls Swingarm Bearing Kit | 28-1095 |
| All Balls Swingarm Bearing Kit | 28-1101 |
| All Balls Swingarm Bearing Kit | 28-1102 |
| All Balls Swingarm Bearing Kit | 28-1103 |
| All Balls Swingarm Bearing Kit | 28-1104 |
| All Balls Swingarm Bearing Kit | 28-1105 |
| All Balls Swingarm Bearing Kit | 28-1106 |
| All Balls Swingarm Bearing Kit | 28-1107 |
| All Balls Swingarm Bearing Kit | 28-1111 |
| All Balls Swingarm Bearing Kit | 28-1112 |
| All Balls Swingarm Bearing Kit | 28-1119 |
| All Balls Swingarm Bearing Kit | 28-1120 |
| All Balls Swingarm Bearing Kit | 28-1121 |
| All Balls Swingarm Bearing Kit | 28-1126 |
| All Balls Swingarm Bearing Kit | 28-1129 |
| All Balls Swingarm Bearing Kit | 28-1130 |
| All Balls Swingarm Bearing Kit | 28-1132 |
| All Balls Swingarm Bearing Kit | 28-1133 |
| All Balls Swingarm Bearing Kit | 28-1134 |
| All Balls Swingarm Bearing Kit | 28-1135 |
| All Balls Swingarm Bearing Kit | 28-1136 |
| All Balls Swingarm Bearing Kit | 28-1141 |
| All Balls Swingarm Bearing Kit | 28-1143 |
| All Balls Swingarm Bearing Kit | 28-1147 |
| All Balls Swingarm Bearing Kit | 28-1148 |
| All Balls Swingarm Bearing Kit | 28-1150 |
| All Balls Swingarm Bearing Kit | 28-1151 |
| All Balls Swingarm Bearing Kit | 28-1152 |
| All Balls Swingarm Bearing Kit | 28-1154 |
| All Balls Swingarm Bearing Kit | 28-1155 |
| All Balls Swingarm Bearing Kit | 28-1166 |
| All Balls Swingarm Bearing Kit | 28-1169 |
| All Balls Swingarm Bearing Kit | 28-1170 |
| All Balls Swingarm Bearing Kit | 28-1173 |
| All Balls Swingarm Bearing Kit | 28-1177 |
| All Balls Swingarm Bearing Kit | 28-1178 |
| All Balls Swingarm Bearing Kit | 28-1180 |
| All Balls Swingarm Bearing Kit | 28-1184 |
| All Balls Swingarm Bearing Kit | 28-1185 |
| All Balls Swingarm Bearing Kit | 28-1187 |
| All Balls Swingarm Bearing Kit | 28-1188 |
| All Balls Swingarm Bearing Kit | 28-1194 |
| All Balls Swingarm Bearing Kit | 28-1197 |
| All Balls Swingarm Bearing Kit | 28-1198 |
| All Balls Swingarm Bearing Kit | 28-1199 |
| All Balls Swingarm Bearing Kit | 28-1207 |
| All Balls Swingarm Bearing Kit | 28-1208 |
| All Balls Swingarm Bearing Kit | 28-1209 |
| All Balls Swingarm Bearing Kit | 28-1210 |
| All Balls Swingarm Bearing Kit | 28-1211 |
| All Balls Swingarm Bearing Kit | 28-1214 |
| All Balls Swingarm Bearing Kit | 28-1215 |
| All Balls Swingarm Bearing Kit | 28-1216 |