Dynojet
Dynojet Stage 1 & 3 Jet Kit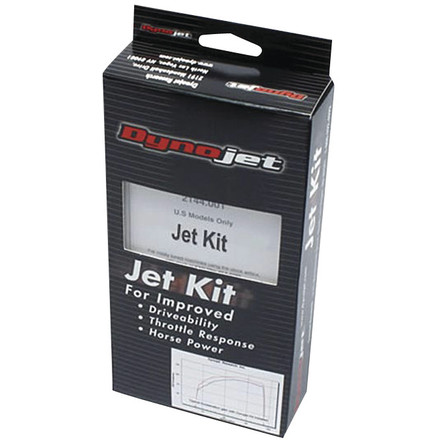 Dynojet Stage 1 & 3 Jet Kit
---
10% Off - Save up to $19.50
---
5 Star
1
4 Star
0
3 Star
0
2 Star
0
1 Star
0
Write a Review
Write your review and you'll automatically be entered in our monthly drawing. Include an image or video to DOUBLE your chances to win!
Write Your Review
12 days ago
Bolingbrook, IL
Good buy
Had all the right parts, modifications abd install was easy and bike runs better than new!
Q: This kit for 81 xs1100 says to adjust e clip on the needle. the 81 carbs needles are none adjustable ?. confused
Q: I have a 2002 vulcan 500 ltd, will this work on my bike and what kind of increase will i see
MotoSportExpert
2 years 4 months ago
A: Yes the Dynojet Stage 1 & 3 Jet Kit Fits your 2002 Kawasaki Vulcan 500 LTD - EN500C. Just be sure to correctly select the Year/Make/Model of your bike before ordering so we can be sure to send you the correct kit for your bike. Also, feel free to give us a call at 888-676-8853 and we would be happy to help you out with your order.

The link below is the Dynojet instruction sheet. The chart shows typical gains with this kit.

http://www.dynojet.com/pdf/2128.pdf
Q: Jet sizes equivelent in inches?
I have an 81 cb 900F that I have tried to jet around a flat spot without loosing top end. Seems as though the answer is a tad bit bigger in the primary circuit. Tried the DJ 074 with the DJ 130 initially with the clip in the center... too much fuel-dies at 6,000-lowered needle ATW down and got top end but terrible dead spot at 6,000. Back to OEM primary jet, middle on clip and bad spot at 3,000. Raised needle ATW up, bad spot gone but it looses it at the upper range 7500 or so...I see you make no smaller jets if I'm seeing the chart right. What I need to know is, is the numbering of your jets arbitrary or does it somehow correlate to the orifice size? If they are in thousandths, and the OEM are also then I need .070 but if what I'm seeing of my jets this size that I already have ( Mercury O/B jets) , they are not..
MotoSportExpert
2 years 12 months ago
A: That would be a good question for DynoJet directly. They can be reached at 800-992-4993.
Q: This kit only covers one carb?
I have a dual carb on my bike will I be needing two kits
MotoSportExpert
Over 3 years ago
A: Dynojet kits are sold per bike. Just be sure to correctly select the Year/Make/Model of your bike before ordering so we can be sure to send you the correct jet kit for your bike
Q: What jet sizes come in this kit?
MotoSportExpert
Over 4 years ago
A: The jets in the kit aren't numbered according to the stock jets. Dynojet jet sizing cannot be referenced by either Kehin or Mikuni jet numbering. Dynojet includes the jets and needles required to make the bike run properly after modifications and includes a jetting guide to help accomplish this.
Q: Does it have the o- rings for the float bowl & the float needles & seats?
MotoSportExpert
Over 5 years ago
A: This is just a jet kit and will not include any items to rebuild the carburetors. If you need the bowl o-rings, needles and seats they can be purchased from the OEM parts section :

http://www.motosport.com/motorcycle/oem-parts

There are also aftermarket carb rebuild kits that will include all of the required o-rings and gaskets, needle and seat, and some will even include new jets. Keep in mind the rebuild kits may fit multiple models and it is recommended to verify your jet sizes when installing a rebuild kit as the sizing may vary.
See all bikes that this part fits...
| Product Variant | Manufacturer Part # |
| --- | --- |
| Dynojet Stage 1 & 3 Jet Kit | 2109 |
| Dynojet Stage 1 & 3 Jet Kit | 2137 |
| Dynojet Stage 1 & 3 Jet Kit | 1127 |
| Dynojet Stage 1 & 3 Jet Kit | 2117 |
| Dynojet Stage 1 & 3 Jet Kit | 2138 |
| Dynojet Stage 1 & 3 Jet Kit | 2128 |
| Dynojet Stage 1 & 3 Jet Kit | 2134 |
| Dynojet Stage 1 & 3 Jet Kit | 2107 |
| Dynojet Stage 1 & 3 Jet Kit | 2179 |
| Dynojet Stage 1 & 3 Jet Kit | 2195 |
| Dynojet Stage 1 & 3 Jet Kit | 2132 |
| Dynojet Stage 1 & 3 Jet Kit | 2108 |
| Dynojet Stage 1 & 3 Jet Kit | 3133 |
| Dynojet Stage 1 & 3 Jet Kit | 3128 |
| Dynojet Stage 1 & 3 Jet Kit | 3154 |
| Dynojet Stage 1 & 3 Jet Kit | 3131 |
| Dynojet Stage 1 & 3 Jet Kit | 3130 |
| Dynojet Stage 1 & 3 Jet Kit | 3136 |
| Dynojet Stage 1 & 3 Jet Kit | 3118 |
| Dynojet Stage 1 & 3 Jet Kit | 3116 |
| Dynojet Stage 1 & 3 Jet Kit | 3135 |
| Dynojet Stage 1 & 3 Jet Kit | 4127 |
| Dynojet Stage 1 & 3 Jet Kit | 4115 |
| Dynojet Stage 1 & 3 Jet Kit | 4133 |
| Dynojet Stage 1 & 3 Jet Kit | 4129 |
| Dynojet Stage 1 & 3 Jet Kit | 4138 |
| Dynojet Stage 1 & 3 Jet Kit | 4102 |
| Dynojet Stage 1 & 3 Jet Kit | 4111 |
| Dynojet Stage 1 & 3 Jet Kit | 1131 |
| Dynojet Stage 1 & 3 Jet Kit | 2139 |
| Dynojet Stage 1 & 3 Jet Kit | 3103 |
| Dynojet Stage 1 & 3 Jet Kit | 3125 |
| Dynojet Stage 1 & 3 Jet Kit | 3122 |
| Dynojet Stage 1 & 3 Jet Kit | 4109 |
| Dynojet Stage 1 & 3 Jet Kit | 4110 |
| Dynojet Stage 1 & 3 Jet Kit | 4101 |
| Dynojet Stage 1 & 3 Jet Kit | 4103 |